Billy Bragg has written, rehearsed, recorded and released a single in the space of a few days and it's now available as a free download.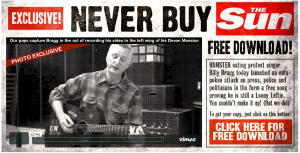 The song is called "Never buy The Sun" and was written in the midst of the current scandal at tabloid and its sister tabloid, the now closed-down News of the World.
In the song Bragg refers to the boycott of The Sun by Liverpool supporters and others in response to the lies it told in 1989 just days after the disaster that saw 96 Liverpool fans die.
This is the press release about the song:

NEVER BUY THE SUN released as free download.
Billy Bragg's brand new song 'Never Buy The Sun' takes aim at the whole sorry story of News International's systemic failure to understand that there are limits to legitimate news gathering. Billy concludes that neither press, police nor politicians come out of this scandal looking good. Only the people of Liverpool can hold their heads high.

Their refusal to buy The Sun in the wake of that paper's unfounded accusation that Liverpool FC supporters robbed the dead victims of the Hillsborough Disaster in 1989 shows that not only do the scousers have principles, but they are also determined to hold onto them in an often cynical world.

Written last Friday, first performed on Saturday, a video clip posted on Sunday, recorded on Monday, mixed on Tuesday and made available as a free download today, Wednesday, Billy Bragg's new song 'Never Buy The Sun' could hardly be more urgent.

In the wake of the announcement that Rupert Murdoch had decided to close the News of the World, Bragg put pen to paper after spending the day driving north listening all the way to discussions about the ramifications of the phone hacking revelations.

After writing the song in his hotel room, Bragg polished the song enough to debut it during his set at Garforth Festival. The rapturous response that he got convinced him to post a video of himself performing the song in the dressing room of the festival, which, after 48 hours, had notched up over 20,000 views.

Back home in Dorset on Monday, as the allegations against News International spread to include The Sun and The Sunday Times, Bragg gathered some musician friends together in a Weymouth studio to record the song for immediate download from his site. Mixed on Tuesday afternoon, the track is available now as a free download from billybragg.co.uk.

Commenting on the speed of the process, from creation to release, Bragg said ' During the Miner's Strike in 1984, I wrote a song about the struggle called 'Between the Wars'. By the time I got into the studio to record the song, the strike was eight months old and, when the record finally got into the shops in February, the strike was over."

Although the digitisation of music has had negative effects on the music industry, it has made the process of recording and distributing material much simpler and faster. If like Billy, you're the writer of songs that try to offer a different perspective on the big issues of the day, the turnaround time helps add to the topicality.

Bragg, who is appearing at the Tolpuddle Martyrs Trade Union Festival in Dorset next Sunday 17th July, said "Over the past few years, any expression of social solidarity has been scorned – from the new activism of the climate camps and UK Uncut to the more traditional campaigns of the unions – but by sticking to their guns, the people of Liverpool have been vindicated in their principled stand against News International."

'Never Buy The Sun' – Billy Bragg (words and music B. Bragg 2011) copyright control

Recorded 11th July 2011 at Mike Hallett Studio, Weymouth, Dorset

Billy Bragg – acoustic guitar and vocals
Tom Hughes – piano and organ
Chris Lonergan – bass guitar
Ady Milward – drums and percussion

Recorded, engineered and mixed by Mike Hallett

All pulled together at the drop of a hat by Adrian Collis of Thoroughbred Music

Download the track here: http://www.billybragg.co.uk/sun.php