Already a "King", Liverpool manager Kenny Dalglish was given a new title today when the University of Ulster awarded him an honorary doctorate.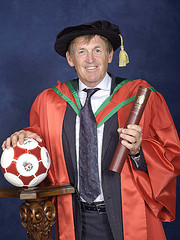 The award, the degree of Doctor of Science (DSc), was made in recognition of Kenny's services to the game of football and also his charitable work.
Liverpool supporters need no reminders of what he has achieved in his time in the game, a playing career that saw him make the move from Glasgow Celtic to Liverpool in the summer of 1977 and very quickly earn the Kop's own honorary accolade of "King Kenny". In his time at the two clubs he won every domestic honour available to a professional footballer in England and Scotland and also won three European Cups for Liverpool. As an international player he earned 102 caps for Scotland.
He moved into the role of player manager in 1986, a role that brought him more success including the domestic double and Liverpool's last league title, won in 1990.
Accepting the award, Kenny – or Doctor Dalglish as he was referred to by the University – was as modest as always: "I feel very humbled to be the recipient of the award," he said, "as all I was doing in my football life was something that I had dreamed of as a young boy.

"I always wanted to be a footballer and I was fortunate that I achieved my dream. If you were to read my school reports you'd quickly realise football was my best option!"
Glasgow and Belfast
Kenny also compared the city he was brought up in and the city he was now accepting this honour in: "I grew up in Glasgow and I'm very proud of my roots; a childhood that would have been very similar to that of many people in Belfast of my age. Two cities largely dependent on shipbuilding and very passionate about football.
"My first visit to Belfast was as a 15 year old boy, I was chosen to play for Scotland schoolboys against Northern Ireland. As has been reported I scored two goals and we won so, sorry to disappoint you!
Player
"My degree in footballing terms began when I was 17 years old and I was asked to sign for Glasgow Celtic. This was a huge honour for me, to become a footballer for many years, but it was only the beginning."
He hasn't taken his success for granted: "43 years on and I am still pinching myself at what has happened to me in my footballing life."
He continued: "I've played for two of the finest and most successful clubs ever. Recently I was asked to return to manage Liverpool Football Club and I'm really looking forward to the challenge."
Hillsborough
In 1989 the darkest day in the club's history came to pass at the Hillsborough stadium in Sheffield. Kenny spoke of his recollections of the tragedy and what followed. "An important aspect of all the jobs I have had is to have a good relationship with the local community. Football clubs mean a lot to millions of people, the club that you support being the most important one. In April 1989 this belief was about to be endorsed.
"96 Liverpool fans went to watch the semi-final of the FA Cup between Liverpool and Nottingham Forest. It was a beautiful sunny day and no one could have foreseen what was about to happen.
"Six minutes into the game it was abandoned as there had been a serious crushing at the Liverpool supporters' end of the ground. Those 96 fans never returned home.
"The crushing that took place shocked everyone and everyone was upset when the news came filtering through about the disaster that had just taken place. The people most affected were obviously the families of the deceased. They were grieving and needed some support.
"Liverpool opened Anfield on the Sunday and allowed the families to move around the stadium as they wished.  They were in need of support and all factions of the football club, to a person, were of the mind that we could offer them some comfort if that was what would help them.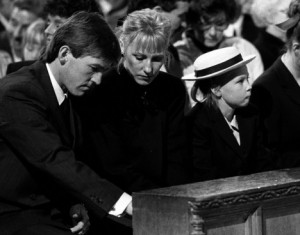 "So we did what the families had done for the football club for many years. We gave them our support."
Anfield became a moving tribute to those that had been lost, flowers, shirts and scarves covering the famous turf like a carpet. The tributes weren't just from Liverpool fans or even just from football supporters and were left by people who had travelled far and wide to show their support. Kenny said, "The football supporters were magnificent in putting away their allegiances and coming to Anfield to show their respect to the families, a gesture that was greatly appreciated."
And a reminder to those who sought to cover up what had happened that day: "22 years on the families are still waiting for justice, which hopefully they'll have sooner rather than later."
Kenny's reaction in the aftermath of the disaster went above and beyond the call of duty, far exceeding what anyone could reasonably have expected from him. He became the pillar of support that the bereaved families and struggling survivors so desperately needed. His dignity during that time will not be forgotten by anyone who was touched by the disaster.
Manager
He would resign as manager of Liverpool in 1991 in need of a break as the trauma of 1989 started to take its toll on him. After taking some time to regroup he accepted the job of manager at Blackburn Rovers, leading them from the old Division 2 to the Premier League title in 1995. He would later have spells as manager of both Newcastle United and his old club Glasgow Celtic.
His return to management at Anfield came in January of this year and he had soon turned the club back to the right direction, bringing back some much-missed unity, not to mention putting the smiles back on the faces of everyone at Liverpool.
The head of the family
Kenny is seen as the head of the Liverpool FC family, indeed he treats it like it is a family, but he's a proud father (and grandfather) too, fiercely proud of son Paul and daughters Kelly, Lynsey and Lauren. Today he credited his parents for instilling his values in him and his family for carrying those values on.
"I'd like to pay tribute to my family for all the support and encouragement they have given to me throughout my life, the sacrifices they made and are still making for my sporting benefit; my parents for giving me a fantastic grounding in the value of family ethos; my wife Marina for carrying that on and my four children for making their dad very proud of how they have led their lives so far."
Cancer and charity

The family's lives were turned upside down in March 2003 when Marina was diagnosed with breast cancer, a disease she would successfully fight and recover from. "About 8 years ago, said Kenny, "my wife Marina was diagnosed with breast cancer. There are many families who have had to endure the traumas and tragedies of this terrible disease.  Marina was one of the luckier ones as she has survived the ordeal. The loving care she received from the nursing staff and the doctors was superb.
"We wanted to show our appreciation of everything the medical staff had done for her and related our sentiments to them. They were very appreciative and stated that the facilities were in need of an upgrade. We had first-hand knowledge that was accurate through Marina's experiences; so we set up the Marina Dalglish Appeal to renovate an entire ward at the hospital where Marina had spent a lot of her time."
The appeal exceeded expectations: "The support for the appeal was very humbling," Kenny explained. "We opened a new ward a few years later which administers chemotherapy for most cancers.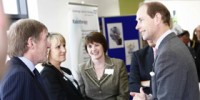 "As we had money left over we set off on a new project, to open a radiotherapy unit at the same hospital. This was officially opened by Prince Edward last month. They were both badly needed facilities and have been tremendously well received by the Merseyside community.
"Every single offer of support, whether financial or otherwise, is really accepted. The success of the charity is a reflection of how importantly the people of Merseyside value their community."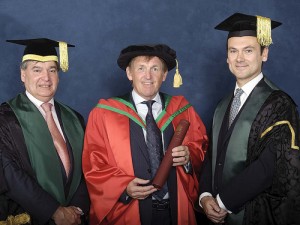 Is there an exam?
Kenny admitted he didn't jump at the offer of the University's award, at least not until he'd checked something out. "When I was asked if I would accept the degree I was a little bit hesitant; it was reassuring when in response to my question, 'Do you have to sit an exam?' I was told that would not be necessary." He recalled his response: "'Then it's an honour for me, I'll be there!'"
Kenny also discussed a new project that has been set up in Belfast that he hopes to be involved with: "A friend of mine, John Miskelly [wealthy property developer and one-time potential owner of Liverpool FC], has a charity called Happy Children which will be running football schools in the province for the benefit of local communities. It will be non-profit making and an enjoyable experience for the young kids who attend.
"I'm hoping to be able to support John as much as possible by attending a few of the days.  It is hugely encouraging to see that the community spirit is alive and well in Northern Ireland."
Kenny brought his speech to an end by explaining that he felt the award wasn't for him alone: "In closing I would just like to thank most since the University of Ulster for bestowing this prestigious degree to the Dalglish family. It may be my name on the parchment but it has been and will continue to be a joint effort."
View more pictures of the day from the University of Ulster's flickr page.
Listen to Kenny's speech in full: