Liverpool's new away kit was revealed at midnight and although it won't be available until next month it's already generating a lot of interest.
It's got every chance of being one of the best-selling away shirts for some time.
Last year a lot of people were boycotting the club's official products as a way of showing their support for the campaigns to remove Tom Hicks and George Gillett. They left in October, and soon after their departure the club saw existing shirt sales get a boost.
But many of those shirts were bought with a name on the back that makes them pretty much useless to Reds now. Countless Torres shirts were binned, donated to charity or cut into pieces to use as dusters meaning there's a hole in the wardrobes of those who still wear football shirts.
For those who are struggling to make their minds up about wearing the shirt the club and makers Adidas have a new slogan to go with the marketing: "Wear your pride".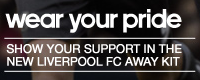 You'll also be wearing the name of the club's shirt sponsor, Standard Chartered, of course.
The only information the club would release about the shirts before last night was that they would be grey, silver and red. After the reveal the grey surprised a few people who had been expecting the same shade as that on those old Candy shirts; instead it was what is described officially as "solid grey", or what most people might call "dark grey" or "charcoal grey".
The badge is predominately in silver but the eternal flames are in red and yellow making them stand out far more than usual. Pinstripes are back too.
The kit is released on May 12th but is available on pre-order now.
As always with any new kit it's not to everyone's taste but what's far more important to supporters is what names will be on the back of the ones worn on the pitch next season.
Some of the names believed to be under consideration by Liverpool include Connor Wickham, José Enrique, Gary Cahill, Ashley Young, Stewart Downing and Mamadou Sakho. The club won't be signing all of those players, and more importantly won't be leaking details of all their targets.
The question about who'll be wearing the new shirt perhaps applies most strongly to the other new shirt revealed overnight, the black and orange goalkeeper's jersey. Doubts about Pepe Reina's future won't go away and, with an exit clause of just £20m said to have been inserted into his contract by the previous lot running the club, it may turn out to be another name wearing it next season.
Pre-order the new Liverpool away kit from Kitbag >>
* Still unsure? The Redmen TV went down to Anfield for a look at the new shirts: