Kenny Dalglish, now in formal talks to become Liverpool boss on a permanent basis, has called for some understanding from England manager Fabio Capello.
When Capello names his England squad for next weekend's European Championship qualifying match against Wales, plus a friendly against Ghana the following Tuesday, it seems likely he'll include Liverpool striker Andy Carroll.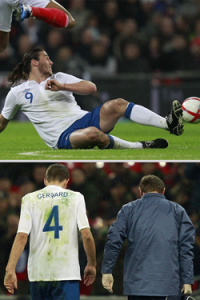 Carroll became Liverpool's record signing in January in a £35m transfer from Newcastle, arriving with an injury that had kept him out since December. He got his first start for the Reds on Thursday night as the club made their disappointing exit from the Europa League, losing on aggregate to Braga. This followed two relatively short sub appearances by the striker as part of a carefully-managed recovery programme.
Kenny isn't trying to block the under-pressure England boss from naming the club's prize acquisition in his squad; what concerns him is how closely the England set-up will adhere to Liverpool's ideas for the 22-year-old's rehabilitation from that injury lay-off.
"I don't know if Fabio wants to pick him or not," said Dalglish, "but there is no point in us being as guided as we have been in his recuperation and doing such a good job to get him to where he is now if someone else is going to waste all that.
"England have to be responsible with him. It is not a case of going to war with anyone, we fully understand somebody wanting to pick his best players for England – but they also have to understand the fact that he is not really there yet for fitness."
It is debatable whether or not England will understand and if they do whether they will agree. Back in November the club asked England to restrict Steven Gerrard to just 60 minutes of a friendly game against France.
England decided against this and Gerrard went on to play for 85 minutes – and even then he was only withdrawn after going down injured. That injury proved to be a serious hamstring tear and the club's captain was out of action for six weeks.
Understandably Liverpool were annoyed at the events of that night.
Fabio Capello, whilst sympathetic about the injury itself, didn't seem too concerned that Liverpool's request had been ignored.
Speaking after the club's anger had been made known – unofficially – the England manager was defiant: "They asked if he can play for one hour, if it's possible. They can't decide how long a player plays with the national team."
He went on: "If it's possible, he'd have played an hour. I understand why they're upset, and I am also upset."
But it wasn't just Liverpool who felt they had been let down by England. Newcastle were upset too – about the use of Andy Carroll.
Carroll played for 72 minutes of the game despite his then-club Newcastle warning England that he was suffering from a groin injury. The player had initially pulled out of the fixture, according to reports, but England exercised their right to demand he report for duty to be assessed by their own medical staff and he was passed fit to play.
Newcastle sent a complaint to the FA after the game, saying they wouldn't have used the player in their own side had they been playing that night.
Capello claimed his general manager, Franco Baldini, had squared it with the player's club beforehand: "Franco spoke with Newcastle before the game and we checked him before the game."
He also claimed he'd asked the player himself: "I spoke with him at the hotel, personally, and after the warm-up here, after the first-half too. He told me he was fit to play every time."
The England manager seems to put his players on the spot when it comes to decisions that may go against their clubs' wishes – he also asked Gerrard if he was willing to stay on beyond the hour his club had requested: "Barry was really injured so we needed someone senior on the pitch because it was a really young team. He (Gerrard) said he was good so, for that reason, it's good. We're upset about what happened to Steve, of course."
Capello was adamant there was no issue: "No player has ever played for me who was not fit," he said.
And as for Carroll: "Our doctor said he was fit, so the player was ready to play," Capello insisted. "He finished the game very well."
After the England defeat Carroll suggested he'd like to get more chances in an England shirt: "I was happy with my performance on the night and it obviously leaves you wanting to experience a bit more. For me it was a great experience to be out there and playing with top international players, I've really enjoyed it.
"The atmosphere to play in front of 86,000 people was a real buzz and it's something I'll never forget. Now I'm just looking forward to Bolton Wanderers on Saturday."
Carroll was declared fit to play in that Bolton game, scoring Newcastle's only game in a 5-1 defeat, and didn't miss a game until the end of December when he broke down with the injury that would keep him out for two-and-a-half months. He scored four goals in those six games, including one in the defeat of Liverpool in December.
In hindsight it's easy to argue that England were proved right, that Carroll was fit to play for them, but this fixture was a meaningless friendly, sandwiched in the middle of two Premier League weekends. It was hardly a game where they needed to take such risks.
And their risk didn't pay off where Steven Gerrard was concerned – although it was Liverpool and not England who suffered for the six weeks he missed.
England aren't only taking risks with the fitness of players that aren't theirs, players they'll hope to call on for games that do matter. They're also risking their relationships with the clubs those players are employed by and in turn with the players themselves.
And perhaps that's why they are without Liverpool's captain for this important fixture.
Gerrard needed an operation; he'd been playing at less than his full capacity for some time because of a groin problem. What was important for Liverpool was when to schedule the operation to minimise his absence from the starting line-up. A less-than one hundred percent fit Gerrard is better than no Gerrard at all, but the sooner the fully-functioning Gerrard was ready to be picked the better.
It just so happened there was a convenient spot in the calendar. Liverpool played Manchester United on March 6th, and then they had just one league fixture in the four weeks that followed.
So Gerrard put his all into Liverpool's 3-1 humiliation of Alex Ferguson's side at Anfield before going under the knife. The Reds' club doctor referred to it as "a minor operation" and said he'd be out for "around three-to-four weeks."
Gerrard's return to action after he'd been crocked for England was the home defeat to Wolves in December that featured chants of "Hodgson for England" from Liverpool fans angry that former manager Roy was still being indulged in a job he never should have got in the first place. And Hodgson could be involved when Gerrard makes his return from this injury.
It might be a little optimistic, but the game that falls three-and-a-half weeks after the date of the operation is a visit to Hodgson's new club West Brom. If he misses that one he should be fit by the time Manchester City visit Anfield nine days later.
Hodgson won't admit to any regrets over taking on the Liverpool job, but had he turned it down perhaps the England job would have been an option for him. And perhaps the wait wouldn't have been quite as long as he might have expected.
Gerrard's absence, along with that of Rio Ferdinand, has caused another storm for Fabio Capello. After he decided John Terry could have the captain's armband back there are reports of unrest amongst the England players. Terry had been stripped of the captaincy in disgrace before the World Cup, Ferdinand and Gerrard becoming captain and vice-captain respectively, but Capello's u-turn doesn't seem to have gone down well with anyone other than Terry himself.
Capello seems to be making enemies, the England camp seems to be splitting. It seems it always does in the end. But as long as England keep their problems to themselves, and don't introduce any new ones for Liverpool, it's doubtful that many Reds really care.