Back in the middle of December it's fair to say that Liverpool was not a happy football club.
The fans didn't like the manager. The manager didn't seem to like the fans. And the new owners were getting fingers pointed at them asking why he was still here.
Those questions were asked directly when the owners appeared on the club's official TV channel to ask some questions. They weren't likely to answer in the kind of way fans would have liked. But they were also wary of answering in the way the manager would have liked.
John Henry said: "The play that has gone on this season, and I guess from the last half of last season, is unacceptable for Liverpool to accomplish what it wants to accomplish – for us to accomplish what we want to accomplish."
The following day that manager, Roy Hodgson, was very guarded, correcting a reporter who'd said the owners had called recent results unacceptable: "No, they didn't say that, 'recent results', no."
Hodgson was clearly expecting the question, and wanted to point out that owners didn't actually refer only to his results: "There's a bit of a difference between 'recent results' because I think the only team with better results than us over the last five or six games is The Arsenal, maybe Manchester United, so I hope you take the last five or six games, we're right up there in terms of our results."
Except that wasn't actually the case. The Premier League's website includes a recent form table based on results from the previous six games and Liverpool were certainly not second or third in it.
They were eleventh.

The sides above them were the two Manchester sides, Spurs, Arsenal, Bolton, Stoke, Blackpool, Sunderland, Blackburn and West Brom.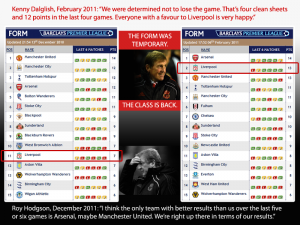 Eleventh was not "right up there", and it was that kind of comment, tied into the poor quality of football being seen on the pitch, that was adding more and more pressure on the owners to get rid of the boss very few Liverpool supporters had wanted in the first place.
He did agree the results weren't acceptable, saying the owners had "used the same terms as I would."
He went on "If you ask me whether results this season are acceptable, is that what you expected when you came to Liverpool Football Club, did you leave Fulham to get the results that Liverpool have got in these 17 games, then I'd say 'no, it's unacceptable, I expected much better.'"
But he seemed unable to admit that any of this could be down to him: "But of course there's lot of reasons for it, you know, there are to some extent injury situations and also, more to the point you know, one or two of our so called star players, who are going to be the ones who bring us up to the levels, are still trying to find the form that they had in the past that will bring us there.
"I'm expecting the next games to go better, I'm expecting to see the team – if anything – climb the table, not to go back down the table." Liverpool were ninth in the full table at the time.
It was the day after Sam Allardyce was sacked but when Roy was asked if he'd be next he claimed not to have any fears about that: "No, I don't have any fears, I don't have any worries, I don't have any concerns.
"The owners have made it perfectly clear and certainly they said yesterday they are in it for the long term and they are going to be patient, they realise it is going to take time.
"They realise we cannot turn things around overnight and they also realise the team I am working with is not the team I put together. So I have no concerns at all."
It seemed never to occur to him that one of his jobs as manager was to get the best out of the players he had, regardless of who'd actually signed them.
It just wasn't his fault, there was nothing he could do about it, it would be mad to get rid of him: "I'm afraid that as a professional, as someone who prides himself as a professional, as someone who thinks he knows his job and is comfortable with doing his job, then you'll excuse me for not wishing to go down the route that you and other people want to go down of  'who can we get rid of next?', because basically speaking, unless there's a major inflow of cash into the club, unless suddenly the team is going to be changed from one moment to the next, then whoever takes my place will be doing a similar job with similar players and I don't believe there's a magic wand."
And maybe that was what finally brought the curtain down on his time as manager.
He was telling supporters it was hopeless. He was suggesting there wouldn't be enough money coming into the club to buy players that might help turn things around. He was saying that he was as good as any manager out there and that if he couldn't get things right then nobody else could either.
This site at the time said this: "Liverpool Football Club needs a manager who cares, a manager who will fight, a manager who will motivate his players and understands what this club is about. Roy Hodgson is not that manager."
A few weeks later the 'magic wand' Roy said didn't exist was finally brought into action. Kenny Dalglish was his name, of course, and supporters had been calling for him for some time.
A month after Kenny got the job back Liverpool are – on form at least – "right up there" with Arsenal. As for "maybe Manchester United" – well they're just below Liverpool in that form table. Liverpool are now sixth in the league and six points below the Champions League places, after a run of four straight wins. That includes two away wins – yesterday's at Chelsea was the second – and that's double what Roy managed in his whole time as manager.
It's still early days, but a growing number of observers have started to notice what Liverpool supporters said all along. That Kenny Dalglish coming back to manage The Reds was nothing at all like Kevin Keegan going back to manage Newcastle. That his time out of the game wasn't going to be such a problem. That his reputation was his risk, nobody else's.
If only the previous board had seen this, had realised how much of a difference it could make, had listened to the fans instead of the sections of the media that really know nothing about Liverpool FC.
Kenny recently silenced a Sky Sports reporter with this: "We know more about our fans than what you do."
And those fans know more about their club than anyone else does.