Kenny Dalglish was full of praise for his squad ahead of the rearranged clash with Fulham.
Fresh from the first win since he returned as manager, a win that followed his first uninterrupted week of training with his new squad, Kenny spoke about attitude, commitment and confidence.
Glen Johnson is one of many players to be on the receiving end of criticism this season, including some public criticism he got from the last manager, Roy Hodgson. Kenny, however, was full of praise for the England international: "Glen Johnson has been fantastic in the left-back position in the past three games. I don't recall anyone going past him.
"He was also involved in the first goal against Everton and was involved more defensively on Saturday. He did really well."

Johnson was signed as a right-back, there is a regular clamour for him to be used as a right-winger, but nobody expected to see him played on the opposite flank. Kenny has been delighted with Johnson's reaction to the switch: "For me, playing at left-back, he's doing us a favour. It's not really his chosen position. But he hasn't said a word against it, it's been no problem and he's just gone out and played.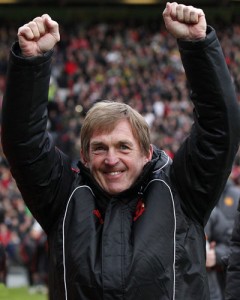 "That's great and I think it just reflects his commitment and his attitude. The fact he is playing there and doing so well is a great credit to him. Also, he'll be thinking that Martin has done well and it would be unfair on him to leave him out."
The manager was referring to Martin Kelly, one of the products of the Academy who is now making the right-back position his own. He'd broken into the first team last season but suffered an injury when deputising for Johnson in  a Champions League match and was unavailable for some time. This season he was thrown in for the FA Cup tie at Manchester United and Kenny has kept him in the side ever since.
Dalglish explained: "Martin's done very well for the club. He's like a new signing for the club because that's four on the spin he's played now. In every game he's adapted well so he's done enough to have played the four games. He's earned it and it doesn't matter what age you are, if you are performing you'll have a chance of playing. He's certainly deserved his opportunities.
"He's been there or thereabouts before. He's been out on loan and had a couple of opportunities. He is getting a good bit of help from people around and about him. But it is impressive when you come into a team that isn't playing as well as it can and you play as well as he has done."
One player the manager has yet to get much use out of is Steven Gerrard. Sent off in the first half of that FA Cup match, he's now served his three match suspension and is available for the visit of Fulham on Wednesday. And his return prompted Kenny pay tribute to the club captain: "Having Steven back is fantastic for everybody.
"We had a great result and performance at Molineux on Saturday and we've got a very difficult game coming up against Fulham on Wednesday, so for us to have Steven back on the back of the performance and result we got at the weekend is a great boost for everybody."
Gerrard has played in many different positions for club and country and given the nature of Liverpool's win on Saturday there'll be much debate about who should make way and which position Steven would be best in. Kenny said: "We'll play him where we think it is best to play him. He's a fantastic footballer, he's served this club unbelievably well and we will certainly ride along on the back of that.
"Your captain being available after missing three games will be a fantastic lift for everybody. He is a special person – he's not just a special footballer."
Kenny wasn't finished: "The way he has served this club and what the club means to him – it is nothing short of fantastic what he has done for this football club. I don't have words in my vocabulary to be complimentary enough about Steven other than to say this club is much better off with him than it could be without him.
"What he's done for this football club, he deserves to be up there in the folklore and the history of the club. He is a fantastic footballer that we're very lucky to have at our disposal."
He also had praise for another of the club's big names, Fernando Torres: "Certainly since I have come in here he has been nothing short of fantastic for us in the way he has applied himself in training and on the pitch," said Kenny.
"Apart from his goals he's worked tirelessly upfront to try and help us."
Kenny is reluctant to get drawn into too many comparisons with what he walked into when he took over from Roy, but is happy to discuss his own experiences with the squad since then: "I can only – and will only – assess what he's done since we've come in, and we've been absolutely delighted with him and the other players as well.  I hope his best is yet to come."
And Kenny had a reminder about how he sees the fans as part of the team and how important unity is to the club: "As I've said before, we stick as one. We need their help at times and we've got to help them at times. If we go forward together, we should be alright.
"Together, we will move forward – as individuals we won't get anywhere, so we'll stick together as a unit and will concentrate on our football club and see what benefit that brings us."