One of Liverpool's reported transfer targets, Blackpool's Charlie Adam, is reported to have put in a transfer request in the wake of comments from his manager Ian Holloway that made it clear he'd been the subject of a bid from the Reds.
According to some claims, Adam is set to lose out financially by putting the transfer request in, but with the window closing in a week's time it seems he was determined to force the issue.
Holloway had claimed to be annoyed at the bid Liverpool had put in, saying he felt it was around £10m under the players' true value. The bid was believed to have been around £4.5m. Aston Villa have also – according to Holloway – made a bid for the player, but Holloway suggested that Liverpool would be the better club for him to join.
Earlier in the day the Liverpool manager Kenny Dalglish had again reminded Sky Sports that he wouldn't be answering questions about potential targets from other clubs. Sky's Vinny O'Connor had tried to get Kenny to open up about the possible signing of Adam, but Kenny wasn't going to fall for it, something he'd made clear to Sky on Saturday after the impressive 3-0 win over Wolves.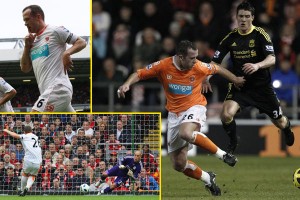 On Saturday he was interviewed by Sky's Andy Burton, and after being asked some questions about the match the reporter was itching, if a little nervously, to ask about possible transfers: "Kenny just a final thought," said Burton, "allow me to ask, if I can, about transfers which may be coming up this week. Are you aware of what might be happening in the next few days, particularly with Charlie Adam?"
Judging by Kenny's face, it wasn't going too well for Burton already. But then the man known for his work on Sky Sports News during the transfer window pretty much put his foot in it: He said: "A lot of the fans watching the show today will want to know if that is getting closer."
It's a moment Andy Burton will remember for a long time. Kenny responded: "Well it's a bit sad when you spin it onto the fans."
Just enough of a pause to make sure his point was heard, but not enough for Burton to rescue the situation, before Kenny went on: "We know more about our fans than what yourselves do. So we know how they want to be treated and they know what we want.
"They want us to treat them with respect and they want us to treat them the way Liverpool fans have always been treated by the club.
"And that's if we've got business to do we'll do it behind closed doors and once we've got a story to tell about anybody then we'll let you know.
"But we've no stories to tell about anything.
"I know what's going on, but it doesn't mean to say I've got to tell you."
Kenny did smile at that point, but the point was made.
But that didn't stop Vinny from trying again. Would there be an improved bid from the Reds for Adam? "I've told you before," said Kenny, "when we've got some business to discuss, we will discuss.
"We've said that we will try and adopt the ways of Liverpool Football Club, and certainly one of our ways is to be respectful to other clubs, and certainly players at other clubs. The most important people we have are the people at our football club, not somebody else's players."
Vinny had already been the subject of a little joke from Kenny at the start of the press conference when the manager asked him if it was okay for female reporters to be present. This was a reference to the controversy surrounding Richard Keys and Andy Gray for sexist comments made on Saturday ahead of Liverpool's game. Kenny's daughter Kelly is, of course, a highly-respected football journalist and TV presenter herself nowadays.
Despite all this the Sky man tried to get one more answer out of Kenny. He asked what was happening with Ryan Babel: "No he's staying here," said Kenny.
Given the speculation that Babel may be included in a possible part-exchange with Ajax for Luis Suarez, as well as Liverpool announcing they'd accepted a bid from Hoffenheim, he wanted to know what this meant.
"It means he's staying here," said Kenny.