Kenny Dalglish sat down in front of the banks of photographers and reporters at Anfield as he was formally presented to them as the new manager of Liverpool Football Club.
Kenny's appointment is until the summer; at that point owners FSG are expected to appoint a new manager on a permanent basis.
He was hit with first question; did he want the job beyond the end of the season? There was a pause from Kenny as he fixed the reporter, Vinny O'Connor, with a serious-looking stare.
"Bit of a strenuous start there Vinny is it not?"
He smiled; the gathering laughed. There was no way this was going to be a serious affair.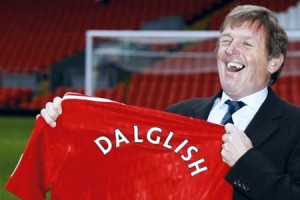 "Maybe could have broken us in a wee bit gently!" he laughed, before answering the question: "My understanding is it's until the end of the season, and that's no problem for me.
"I've seen, or I've heard, stories about 'demanding this' and 'demanding that' – when I was phoned early on Saturday morning, when I was away, and asked if I'd take the job it was a straightforward 'yes' and that was it for me.
"So, there's no conditions, there's no promises, there's nothing.
"I came back here to work at a club that myself and my family are eternally grateful for many things they have done for us.
"When I was asked to do it, as I said yesterday, there was no way that I was going to be disrespectful and say 'no'."
But that was enough seriousness for one answer: "If I can get to the end of the season then I'll probably end up one of the longest-serving managers in the Premiership anyway, the way things are going!
"We'll not start running before we can walk."

Next he was asked what his objectives were: "To try and gain as many victories as we possibly can. I've always gone wherever else and said that all I can promise is my very best and if it's good enough then we'll have more happier days than sad days.
"For me it'll be nice to get out there on the football pitch and start to work and see how we can perform. We had a training session this morning with the lads that never played yesterday and it was a really good session, they did really well.
"The lads yesterday put an unbelievable effort in to try and get us a result despite two pieces of adversity for us, so we've had a positive start even though we lost the game and the training this morning was positive so we just need to try and get a positive momentum going and turn that positivity into victories."
The second new appointment of the New Year was that of Steve Clarke. The former Chelsea and West Ham assistant became Liverpool's first team coach this morning and Kenny had plenty of good things to say about him: "It's important that we have good backroom staff and Steve certainly comes into that category.
"I was asked a question yesterday about the backroom staff and at that time there had been no conversations. On the way back on the bus Damien and I had a conversation, and Steve's name came up. And to be fair to Steve, he was phoned last night, and he was up here for training this morning which tells you the lure that Liverpool Football Club has to someone who was very important, was instrumental, in the success at several clubs – none less so than Mourinho's spell at Chelsea.
"So I think we've got a decent guy there and he'll work alongside Sammy [Lee, the assistant manager, who retains his post]. The two worked very well in tandem this morning so it looks like it's going to be quite positive for us.
Earlier in the day Steve Clarke spoke of his own delight at his new job: "I was sat at home doing nothing and now I've got the chance of working with a football great in Kenny Dalglish and also working for one of the world's leading football clubs.
"This was something I couldn't turn down. I am grateful for everybody who has given me such a warm welcome, especially all those at Melwood.
"I am really looking forward to working with Kenny and the rest of the staff to help bring good times back to the club."
It goes without saying that we're looking forward to it to. Welcome Steve, welcome back Kenny.