In the days following the departure of Rafael Benitez the speculation was mounting about who the club would be bringing in as a replacement.
Already, after word had got out of his interest in the role, Kenny Dalglish was the fans' favourite for the job – be it short-term until a change of owners or as a long-term role. At that time we'd not been given the full truth about how little time the owners had left to sell up or lose the club.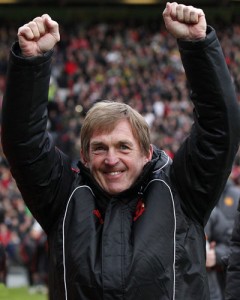 It was quite clear that some of the fanciful ideas that had been put about by certain individuals agitating for a change of manager were nothing like the reality of the recruitment process that had now begun.
Despite some laughable reports, the club didn't have the means to approach coaches of the standard (and pay-scale) of Jose Mourinho, not that many supporters genuinely believed they did in any case. And those that did wondered how the club could persuade a top-drawer coach to manage LFC at a time when the Reds were making more from transfer fees than they were spending. A time when the club was falling apart.
To supporters it seemed obvious what to do. But to the sections of the media that had campaigned for Rafa's departure and were now campaigning for the appointment (and in later months the retention) of Roy Hodgson it wasn't their idea so they mocked it at every opportunity. The club's then executive management team said it didn't fit in with their ideas, although they never really explained why.
Now Kenny has the job, belatedly, and the smiles on the faces of supporters tell you why this was such a good idea. The positivity and unity sweeping through the club now is the strongest it has been in a very long time.
If only the former board had listened to supporters last summer, instead of clamouring to the sections of the press that have nothing to do with Liverpool FC. Nothing to do with us other than criticising us, or complaining when they borrow (and break) our players for their England national side.

Even now those sections of the media are trying to justify their wildly off-target assertions about what was right for a club they don't understand, let alone care about. And now we've got Kenny back, now we feel like we can dream about good times again, their attempts to justify their nonsense bring us much to laugh at.
We're losing our anger but we're strengthening our fight.
This was posted on this site on June 10th 2010:
Could anyone imagine Manchester United or Chelsea head-hunting Roy Hodgson if they needed a new manager this summer? Would Real Madrid or Inter Milan try to persuade Randy Lerner to let them speak to Martin O'Neill? Liverpool are looking at coaches the big clubs wouldn't even think of approaching. And unless Liverpool want to stop being described as a big club this is one of the most vital summers in years.
To put it simply, Liverpool can't afford a top coach. So it's time to gamble. Either it's time to see if one of those coaches not on the A-list can become a top, world-class coach, or it's time to look at the only other option open to us.
Kenny Dalglish.
Kenny was an A-list coach, and then over time he stepped away from coaching. But he has made it clear he desperately wants the Liverpool job. He made it clear after seeing the list of candidates. He won't have made that decision without first talking to people who are good, knowledgeable, football people.
The board asked him to help find a successor. He did; himself. But he's too modest to say it.
But surely he's the best option on the table.
He's no more of a gamble (due to his time away from the game) than any of the others (due to their inexperience at the levels Liverpool aim to be at).
He knows which young players are showing promise, he knows which first team members are disruptive and need to be moved on. He knows which players are best to sacrifice if funds need to be raised.
And he's a hell of a diplomat.
If he has problems with the board, he'll talk them round and he won't sulk if he doesn't manage it. He'll also have much more patience from fans. It would take some effort to spread false rumours about Kenny that put him in a bad light, too much for anyone to even try.
And people are worried that failure could ruin his legendary status. That people would lose their respect for him and that it would be too much to bear to see Kenny's reputation in shatters.
Yet that should be the most compelling reason to push for him to get the job.
First of all, who's to say he'll fail?
Secondly, whose reputation is it? It's not ours, it's his. And he wants to put it on the line, he wants to risk it. He could spend the rest of his life sitting in the director's box and enjoying the corporate dinners. But he's spent a year up there, taking it all in, working it all out, getting it all sorted out in his own head. He wants to dig his tracksuit out and get back to where he belongs.
He wouldn't ask if he didn't think he could do it.
And if Kenny thinks he can do it, it's the least the club can do for him. And the least the fans can do for him is to push for his appointment and get right behind him.