Less than 48 hours after appointing Kenny Dalglish as Liverpool manager, the club have made another change to the coaching staff.
Steve Clarke comes into the club as First Team Coach, the position previously held by Mike Kelly (Roy Hodgson's appointment) and before that Mauricio Pellegrino.
Sammy Lee is set to remain as assistant manager.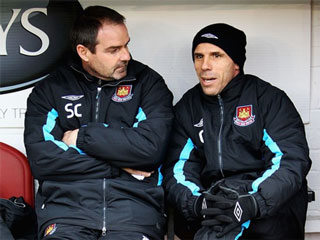 Clarke is perhaps best known from his time as assistant to then-Chelsea boss Jose Mourinho, staying on at the London side beyond the tenure of Mourinho. He would later leave Chelsea to join West Ham where he was assistant to Gianfranco Zola, before West Ham changed hands and their new owners pushed Zola out, Clarke leaving at the same time.
His first senior appointment in a coaching role came when he was made assistant to Ruud Gullit at Newcastle following the then-owners of Newcastle's decision to force current Reds boss Kenny Dalglish out. Newcastle weren't renowned for patience at that time and Gullitt was also out of a job a year later, Clarke taking over as caretaker for one match, a defeat to Manchester United.

As a player he made more than 500 appearances for St Mirren and Chelsea and picked up six caps for the Scottish national side.
Commenting on the appointment in an official statement today, Kenny: "Steve is a great addition to our backroom team and I'm delighted we've been able to bring him into the Club. I am looking forward to working with Steve alongside Sammy and our other technical staff."
Dalglish is due to be unveiled officially later today.