It was nice to be one of those who were asked by the official LFC website for our views on a year that has seen Liverpool fans fighting for the whole of the 12 months. ("An historic year in review".)
Early in the year much of that fighting was with each other as the off-field troubles were increasingly ignored in terms of the part they undoubtedly played in the on-field troubles.
That fight was "won" by those who wanted a change of manager, but many of those were left in despair at the name of the man brought in as a replacement.
The despair has clearly been shown to be well-founded, the last time we started this badly we got relegated, and that was more than half a century ago and well before Bill Shankly's arrival.
In the middle of this dreadful season came a glimmer of hope however. If the debt wasn't killing the club during the reign of Hicks and Gillett the three years of boardroom infighting certainly was. But what most fans didn't know was that with just weeks left of the 2010-11 season to go Hicks and Gillett had been forced by the bank to sign away their control of the club to new chairman Martin Broughton.
Liverpool fans fought for their club, Hicks and Gillett lost.  With days left until the bank took the club over, and after a bitter last-minute fight from the outgoing owners, Broughton sold the club to NESV, now known as Fenway Sports Group (FSG). The biggest part of the debt was paid off and the club now had owners who like each other – there are no guarantees about how it will all turn out, but there's hope, something we'd started to think we'd never have again.
As the year draws to a close the supporters have been fighting to be heard in their desire for an urgent removal of the current manager from his post. And it now looks like their voices have been heard, finally there is some recognition in the mass media that whatever problems the manager inherited or had to work round he's added far more to the mix.  There are even hints that the owners know he's made many of this season's problems for himself and is continually adding to them. His comments about fans not being supporters were a particular low point of his time in the job.
With all of this fighting, with so much happening, it was quite a challenge to keep to brief replies. So this is the long version.

"Player of 2010 – Pepe Reina."

"Not the best year for any Liverpool player, but it's easy to take players for granted which is something we shouldn't do with Pepe Reina. Him passing that milestone of 100 clean sheets and continuing to bounce back from his still rare mistakes should remind us all of how important he is to this side."
Finding a good goalkeeper is something that many clubs have failed to do and have often suffered as a result. If we lose this one – as at times it's felt like we might – we might never find a new one as good. Not only that, we may find it takes us years to find one that is adequate.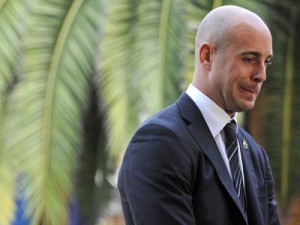 Pepe has made a couple of mistakes this season, but unlike most keepers he doesn't dwell on them and allow them to shatter his confidence. He thoroughly deserved his time with the captain's armband, he's a born leader and as anyone who's seen his exploits with his national side will tell you he's the life and soul of the dressing room.
It would be easy to list players deserving of criticism over the past 12 months, but having been asked for opinions before that dreadful home defeat to Wolves, in the middle of that two-week break from playing, it felt better to try and stick to the positives.
The positives include Lucas Leiva finally getting some recognition for what he does right instead of condemnation for what he does wrong. He's a player who puts his heart into every game and is willing to learn from his mistakes as well as sticking to the task he's given by his manager. In an ideal world he'd perhaps be a sub for Liverpool more than a starter, but it's far from an ideal world and he deserves praise for his efforts in the Red shirt.
Sotirios Kyrgiakos would probably win an award for best value-for-money player. He's not a first-choice defender but has shown on the whole that he can be relied upon to step into the back four whenever needed. He's also shown himself to be one of our main goal threats in the first half of the current season.
Raul Mereiles has made a good start to his life at Anfield, but he has impressed most when he's been played in a central position – no surprise given this is where he has been plying his trade in the years before Liverpool bought him.
There are still some good players in this squad, some of whom have for whatever reason not played to their best abilities – perhaps through not being used in a way that suits those abilities – and many of those who helped put for past sides like Real Madrid and Manchester United in 2009 are still part of the set-up.
We need tweaks more than we need wholesale changes, we need players to be picked on ability and form rather than reputations they might well have stopped living up to. We need to return to performing as a team, playing to our strengths, running out onto the pitch filled with confidence.
This manager has, sadly, often used players in roles that they aren't suited to, sending them out onto the pitch with comments ringing in their ears like "I hope we don't lose 6-0".
When we're motivated, when we gel, when we work as a team and play to our strengths we get games like this one:
"Performance of 2010 – Liverpool 2 Chelsea 0 (November 2010)"

"A depressing year on the field is nearly over; perhaps it's best looking at positives we can take into a new year. Chelsea arrived at Anfield as dead-certs for the league but left it beaten and on the start of a run that might well have ended their hopes of that title. More of this in 2011 please Liverpool."
It was tempting to talk about performances off the field, but sticking to what happened on the grass it was hard to think of too many great performances. And it was almost certain that the performance would be a home game, given the fact Liverpool only managed two away wins in the whole of 2010. But in the spirit of trying to stick to the positives it seemed it was best to look for a game from the current season and that was the one match that stuck out.
Drogba was ill and on the bench, but despite that this was a Chelsea side who had up until now been frightening their opponents just by turning up. Liverpool turned the tables, for once in this last few months looking like they were trying to win rather than trying to avoid defeat. And win they did.
If the same level of motivation can be found from the club's best players for the rest of the season it might not end quite as desperately as it's started.
The next question could only have one answer.
"Moment of 2010 – The Moment Hicks and Gillett finally got flushed away"

"The last few days of the Hicks and Gillett era seemed to drag on forever but the moment it ended was one to treasure.

"Still damage to be fixed, still wounds to be healed but that war is now over and we can finally build a future to match the best years of our past."
A massive weight was lifted with the news that the appalling reign of Hicks and Gillett was at an end. The run-up to the final moments seemed to take years, perhaps a feeling that came from having very little sleep as the battles continued on both sides of the Atlantic.  Watching the drama unfold on Sky Sports News, missing vital parts due to a broken car radio aerial that only allowed Radio 2 to be picked up and using Twitter to inform and be informed are all personal parts of the memories of that period that will stay with me for a long time.
On the whole the camaraderie between Reds was special, and this was possibly most evident just before the courtroom dramas and with the production of the "Dear Mr Hicks" film and the various acts of what a wounded Tom Hicks would later refer to as "Internet Terrorism".
It was an honour to be asked to get involved with the "Dear Mr Hicks" film, and it served as a reminder that we all love our club and will fight for it tooth and nail. Mike Jefferies put a massive amount of time, effort and no doubt money into making it happen, with far too many people to mention putting their hearts into making it a success.
A "Jim" opened the film (Ricky Tomlinson using his Jim Royle "My A*se" catchphrase) and another ended it (Jimmy McGovern pulling no punches to say what he thought of the now former owners). Blink and you'd miss this Jim's appearance in it, but it was a moment for this Jim to remember nonetheless. Ricky's on-screen wife Sue Johnston said her bit, as did Scot Williams, one of the people who made sure Jimmy McGovern's Hillsborough drama was so hard hitting. Many more people gave up their time to let Hicks know what they thought of him.
Between that film coming out and the battle being won there was a scare when NESV were reported to be ready to walk out should the club go into administration. The threat was real enough that Sky Sports News wanted an interview about a poll on this site that had shown overwhelmingly that supporters were willing to take a nine-point hit in return for an end to the era of Hicks and Gillett. It was a moment to remember in the sense that our voices really were being heard.
We were making a difference. We made a difference.
Although there are some quietly muttered doubts about NESV/FSG at the moment these come from the depressing situation the club is now in on the field. But they'd not be successful businessmen if they didn't understand that, or if they didn't have a plan in place to deal with a situation as desperate as this.
It's no secret that I, like many fans, feel the most important and pressing change they need to make is to the man sitting in the manager's office. But just as removing the last manager was never going to cure all the ills at the club, removing this one should only be the start of some much-needed changes, including some that should already have been made.
A new year awaits, one that should be filled with hope for this football club and all its supporters.
Happy New Year.