It will hardly come as a surprise but today's match between Liverpool and Blackpool has been called off.
Newly-promoted Blackpool don't have undersoil heating at their Bloomfield Road ground and with records being broken in the North West of England for freezing temperatures there's no guarantee the game would have gone ahead if they had.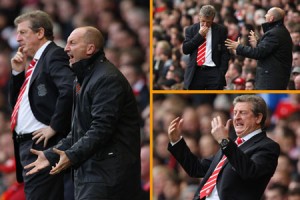 The weather station at Crosby, just north of Liverpool, saw temperatures drop as low as -17.6° C, the lowest it had ever recorded. Blackpool is less than 30 miles north of Liverpool.
A noon pitch inspection had been planned, with questions asked as to why it wasn't taking place at 9am to give Liverpool fans fair warning about whether or not they would need to travel. At a time when the advice given to the public is to avoid making any unnecessary journeys the late pitch inspection meant journeys would have started before it was known if it was a wasted trip.
In the end Blackpool changed their mind, no doubt after a lot of prompting, and the pitch inspection was done earlier, as their official website explained: "Temperatures dipped to minus fourteen on Christmas Eve and minus nine on Christmas night and following discussions with the Premier League, officials from Liverpool and the match referee the planned inspection for noon has been brought forward to 10am."

Shortly after his pitch inspection came the announcement from Blackpool: "The Seasiders Boxing Day fixture with Liverpool has been postponed due to a frozen pitch.
"The fixture will now take place at Bloomfield Road on Wednesday 12th January, kick off 8pm."
Liverpool FC explained that tickets for today's game will be valid for the new date, but "any Liverpool supporter who is unable to travel on the new date should return their ticket to Liverpool FC by close of business on Thursday, 6th January for a refund."
The Red's next league game will now be on Wednesday night at Anfield against Wolves. With last Saturday's home game against Fulham also called off – the pitch was playable but there were health and safety concerns due to the snow and ice outside the ground – Liverpool will have gone 18 days without a league fixture.
That last game for the Reds was that embarrassing 3-1 defeat to Newcastle United, the second newly-promoted side to beat Liverpool in what has been an awful season for Roy Hodgson as Liverpool's new manager. Blackpool of course were the first, Ian Holloway's side beating the Reds at Anfield in the last game under the ownership of Tom Hicks and George Gillett.
The rearranged date falls in between Liverpool's trip to Old Trafford for the FA Cup 3rd round clash with Manchester United and the home league derby with Everton, meaning Liverpool will face three sides in seven days that have already beaten them under Roy Hodgson's management this season.