With Liverpool playing Utrecht at home tonight in the Europa League Liverpool manager Roy Hodgson had to sit in front of the press and answer questions. The press conference came the day after the new owners had done their live phone-in, with many callers asking why on earth Roy was still in charge at Anfield.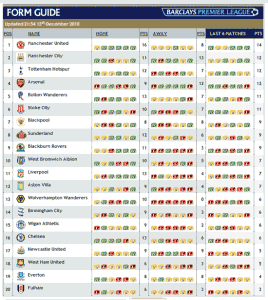 The phone-in was mentioned by a reporter: "The club's owners were on TV last night saying recent results were unacceptable as they put it…" Roy interrupted: "No, they didn't say that, 'recent results', no."
The reporter clarified: "Well, the words 'results unacceptable'…"
Again, Roy interrupted: "Aah."
It seemed Roy had been expecting this and he was ready with his answer: "There's a bit of a difference," he said, "between 'recent results' because I think the only team with better results than us over the last five or six games is The Arsenal, maybe Manchester United, so I hope you take the last five or six games, we're right up there in terms of our results."
This was an interesting claim from Roy, but also one that was very easy to get checked out because the Premier League's own website includes a recent form table based on results from the last six games. So was Roy correct, was it just "The Arsenal" and "maybe Manchester United" above Liverpool on recent form?
Sadly not.
Liverpool are in fact eleventh in that table.
Ahead of Liverpool are the two Manchester sides, Spurs, Arsenal, Bolton, Stoke, Blackpool, Sunderland, Blackburn and West Brom.

It's difficult to understand how Roy feels he deserves any respect or trust when he makes such inaccurate claims in the hope of defending the awful start to his Anfield career. Liverpool are ninth in the full league table (and the team below them, Blackpool, have played a game less) and Roy is trying to suggest it was just a bad start that put the team there, and that the team is now much better. Yet on recent form, without any games-in-hand to confuse matters, Liverpool are even worse, in eleventh place.
We aren't "right up there", we're nowhere near.
Either Roy knew this, and hoped he could pull the wool over the eyes of the fans, and over the eyes of the reporters who are based locally and don't give him the easy ride he gets from his old friends elsewhere in the media – or he's so out of touch with the situation that he thought his little claim was spot on. It's a worry either way.
What John Henry had actually said was: "The play that has gone on this season, and I guess from the last half of last season, is unacceptable for Liverpool to accomplish what it wants to accomplish – for us to accomplish what we want to accomplish."
Roy was asked if he felt the owners' use of such phrases was a concern: "Well no," he replied. "They've used the same terms as I would. If you ask me whether results this season over the, what is it now 16 games is it that we've played now or is it 17?" He checked. "17? If you said are those results acceptable, is that what you expected when you came to Liverpool Football Club, did you leave Fulham to get the results that Liverpool have got in these 17 games, then I'd say 'no it's unacceptable, I expected much better.'"
Not that it's his fault: "But of course there's lot of reasons for it, you know, there are to some extent injury situations and also, more to the point you know, one or two of our so called star players, who are going to be the ones who bring us up to the levels, are still trying to find the form that they had in the past that will bring us there.
"I don't think the results in these 17 games have been that good, we've been saved a little bit by the European matches, we've done pretty well there, I'm satisfied with the results there especially given we haven't always chosen to use our so-called best team."
Roy says the situation is about to improve: "I'm expecting the next games to go better, I'm expecting to see the team – if anything – climb the table, not to go back down the table." He's the manager of Liverpool Football Club; surely he should be giving supporters expectations better than maybe not dropping any further than ninth.
He praised the owners before pointing out he has something in common with some of the supporters: "I've seen what the owners said, I think they spoke very, very well; considering it was a phone-in I think they did brilliantly well because certainly, like all English managers, the last programme any of us would ever think of even turning on is those phone-ins after matches." Why single out English managers? Many people, many supporters, find post-match phone-ins are best avoided.
Phone-ins just aren't Roy's thing: "I can also add that I've never made a phone-in in my life but if that means anything I don't know."
With Sam Allardyce sacked yesterday by the new owners of Blackburn Roy was asked if he felt any concern for his own future, given Liverpool also have new owners. He shrugged his shoulders before having a little bite at the reporter: "Well, you know, you're going down the happy route again, you know, 'who can we get sacked next', I suppose.
"No, I don't have any fears, I don't have any worries, I don't have any concerns."
He explained why: "The owners have made it perfectly clear and certainly they said yesterday they are in it for the long term and they are going to be patient, they realise it is going to take time.
"They realise we cannot turn things around overnight and they also realise the team I am working with is not the team I put together. So I have no concerns at all."
No concerns at all?
So far he'd blamed injuries, poor form of players and – presumably – the squad not having enough players like Konchesky and Poulsen for his liking. Any manager will defend himself in these situations, but Roy gives the impression that he's right and that nobody can teach him anything about being a manager. A little admission now and again that he personally has made mistakes would have helped fans feel that he at least recognised his own shortcomings, because that would have meant he was able to at least try and do something about them.
He went on to suggest that if he was sacked it wouldn't be because of his own failure to come close meeting expectations: "If you mean to say, 'Oh, so you feel there's no chance whatsoever of you getting sacked,' well then I'd be in a minority of one in that respect because it happens to Hughton, it happens to Allardyce, O'Neill resigns.
"I suppose we're all in that situation, but I'm afraid that as a professional, as someone who prides himself as a professional, as someone who thinks he knows his job and is comfortable with doing his job, then you'll excuse me for not wishing to go down the route that you and other people want to go down of  'who can we get rid of next?', because basically speaking, unless there's a major inflow of cash into the club, unless suddenly the team is going to be changed from one moment to the next, then whoever takes my place will be doing a similar job with similar players and I don't believe there's a magic wand."
So not only does he tell us that eleventh (on form) is "right up there", or that he's aiming to try and stop us going any lower than ninth in the league, but now he's implying that there's nothing else that can be done.
The owners are telling fans they know the situation is unacceptable; Roy is telling fans to accept it, to get used to it.
Liverpool Football Club needs a manager who cares, a manager who will fight, a manager who will motivate his players and understands what this club is about. Roy Hodgson is not that manager.