Sunday 7 November 2010 – Premier League – Result
Liverpool 2 (Torres 2) Chelsea 0
Much, much better from Liverpool, this scoreline didn't flatter and Liverpool thoroughly deserved their win.
It would be easy to find elements to criticise Liverpool for today, to mention how different it might have been had certain incidents gone a different way – but it's far better to concentrate on the positives.
Lucas Leiva was the man of the match, but he had some stiff competition from the scorer of both goals, Fernando Torres. Pepe Reina was as busy in the second half as Torres was in the first and he'll be as delighted with the clean sheet as Torres will be with his brace. Meireles, Gerrard and Kelly all played far better today than most of the side have played in any game this season; Dirk Kuyt came back from injury like he'd never been away.

The second half felt nervy at times, Liverpool fans won't want to see too many games where they're playing as deep on their own turf as many visitors to Anfield have in recent seasons. But after the start to the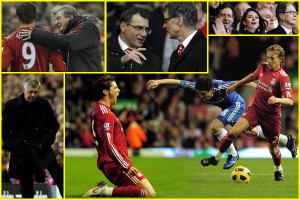 season Liverpool have had it's understandable that the manager felt it was best to hold onto what they'd managed to achieve in the first half. Had Torres not got that second just a minute before the break those kind of second half tactics would have been far more nailbiting for fans to watch.
This wasn't the side Hodgson had planned to use for the game, a late injury to Glen Johnson and a bout of tonsillitis for Soto Kyrgiakos meaning he had to change the line-up on the day of the game itself. It's unlikely that all eleven starters will be there at the outset for the trip to the DW Stadium on Wednesday; this was a tiring encounter for a side who worked their backsides off for the full 90 minutes. But none of these players should be absent based on their performances today.
It was also interesting to note that there was no place in the starting line-up for Christian Poulsen, arguably the worst buy of the few Roy made this summer. Even more interesting was the decision to leave Poulsen on the bench when the manager made his three late substitutions.
Liverpool's new owners were at today's game to show their support but where their support has really had an impact is away from the crowds and the cameras, in private meetings with players like Fernando Torres.
From looking like a player disillusioned with the club's future direction the Spanish striker looked today like someone who'd finally been given some promises he felt would be kept. The appointment of Damien Comolli perhaps worked as the biggest sign yet that things were going to change at Anfield.
After the game Torres was happy with the win but emphasised to Sky Sports how important it was to show the same kind of spirit and perform at the same kind of level in all Liverpool matches, regardless of the opposition.
"We knew our start to the season was not good enough," said Nando. "Liverpool have never been in the relegation [places] after nine games.
"We are now going forward in the table, playing better every day. We thought from the beginning we needed time to work with a new manager and with new players.
"We have to show now with the teams in the middle of the table, with the teams not as good as Chelsea, that we can play in this way; we can play with the same intensity, with the same quality and we will be fighting for bigger things. But now is our opportunity to show next week against Wigan and against Stoke that we can keep winning games.
"At the end of the day it's three more points but everyone knows it's a different game it's a top game, it gives you not only the three points but it gives you more confidence especially with it being a tough week.
"We've won three games in seven days but we have to forget this game now and start thinking Wigan on Wednesday night. And we have to keep getting points because we lost a lot of points at the beginning and we have to win every game now.
"It's been difficult. It was a tough end of the season for me, difficult moments in the World Cup, a lot of injuries, difficult training every day but every day I am feeling better and improving every day.
"I don't know if I can play my best soon, or later, but I am sure I will play my best as soon as possible."
Asked about the criticism he's had in some quarters for his performances he said he'd taken it on the chin: "It's part of the life of a footballer, being criticised, but football is like this. Even if you're playing for a team like Liverpool everyone is watching every game, everything you do is around the world in the next minute.
"I know the expectation I have but I am ready for that, to fight to get the top form."
Wigan and Stoke should be easier opponents than Chelsea, but Liverpool have a habit of making life difficult for themselves and defeats against Blackpool and Everton show exactly how they've done that this season. But there's a sense that the cloud has been lifted at Anfield, that NESV have had words that have lifted morale, that Liverpool can get back on track.
Roy Hodgson was seen by many as little more than a stop-gap appointment until the club's financial position had been resolved. The man who hired him has gone and the day that happened he must have known his only hope of hanging on to his job was to start bringing the results in. And, for three league games in a row now, he's done that.
More of the same please.
Liverpool: 25 Reina, 34 Kelly, 23 Carragher, 37 Skrtel, 3 Konchesky, 4 Meireles (26 Spearing), 21 Lucas, 8 Gerrard, 17 Maxi, 18 Kuyt (33 Shelvey), 9 Torres (24 Ngog).
Unused subs: 41 Hansen, 22 Wilson, 28 C Poulsen, 14 Jovanovic.
Goals: Torres 11, 44
Chelsea: 1 Cech, 2 Ivanovic (17 Bosingwa), 3 A Cole, 26 Terry, 33 Alex, 7 Ramires, 12 Mikel, 15 Malouda, 18 Zhirkov (23 Sturridge 76), 21 Kalou (11 Drogba 46), 39 Anelka.
Unused subs: 22 Turnbull, 19 Ferreira, 46 McEachran, 44 Kakuta.
Booked: Zhirkov, Alex
Referee: Howard Webb
Attendance: 44,238
Stats: (Liverpool-Chelsea, BBC / Guardian / Sky Sports)
Possession: 56%-44% / N/a / 34.7%-65.3%
Attempts on target: 7-7 / 6-5 / 6-5
Attempts off target: 2-4 / N/a / 2-5
Corners: 2-5 / 2-5 / 2-5
Fouls: 15 – 17 / 16 – 18 / 16-18
Offside: N/a / 3-3 / 3-3