Former Liverpool manager Rafael Benitez has responded to the latest round of attacks on him by current Reds manager Roy Hodgson.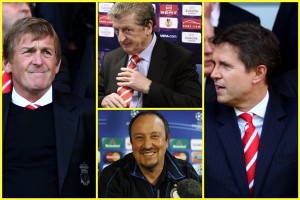 Hodgson yesterday described an 1-0 away win at Bolton, courtesy of a very late goal, as a "famous victory". Despite Roy's description this match is unlikely to feature in any "hall of fame" featuring Liverpool's genuinely famous victories down the years. It was Liverpool's first away league win since April, but Roy's first away league win in 442 days.
Before that match came some quotes from Roy dismissing Kenny Dalglish's credentials to become Liverpool boss  a second time and accusing Benitez of freezing Kenny out of Melwood.
Hodgson said Dalglish, who has won the league four times as a manager, was "good at" scouting, working at the academy and playing an ambassadorial role. "You cannot find a better person for that than Kenny," said Roy, who got the manager's job at Anfield despite a CV that raises big questions about the criteria used to select him.
As Liverpool's season slid from bad to worse with embarrassing defeats at home to Blackpool then away to Everton there were calls for Roy to be removed from his post. Many felt it was better for the club if Kenny was to take over in a caretaker capacity until the club could secure a suitable replacement.

Although Kenny has been out of management for some time, most of Roy's success came before Kenny won his fourth league title. Roy won the Danish league in 2001, along with their equivalent of the Community Shield, but other than that his success at club level was in Sweden in the 70s and 80s. He's also got to the UEFA Cup Final twice, losing both times. And he won the LMA Manager of the Year award last year.
At a time when his side were still in the relegation zone, Hodgson's comments seemed patronising towards Kenny. Roy spoke as if Kenny was only worthy of an advisory role: "I told him I was disappointed he went for the manager's job," said Roy, "because for me he should be working for Liverpool on a permanent basis, long after I leave, for years to come, assisting all future Liverpool managers."
Roy then had his latest dig at the manager who he seems determined to blame for his awful start to the season: "When it was mooted the club wanted me for the job I made it clear to Kenny I wanted him on board and it wouldn't be like it was with Benitez where you are here in name but never allowed to set foot into Melwood and we don't want anything to do with you."
The comments raised a lot of surprise and anger amongst Liverpool supporters. Kenny would not wish to be dragged into a spat between Roy and his predecessor, and had only ever had good words to say for Benítez – from before his own return to the club through until even this weekend, when he referred to Rafa as one of his "managerial friends".
With Benitez in London tonight for a press conference ahead of his side's Champions League tie against Spurs it was inevitable he'd be asked for a response to what Roy had said.
Benitez said: "I will be clear. I will be clear because I didn't want to talk about Liverpool before but I had to talk because they were asking me again.
"I think that Mr Hodgson, he doesn't understand," said Rafa.
Benitez echoed what many fans have been saying every time the latest set of quotes from Hodgson has hit the wires: "Every single press conference is even worse than the last one. He's talking about things that he doesn't know."
And for the sections of the English media that laugh at what they don't understand, Rafa had a new quote for them to struggle to understand: "And some people cannot see a priest in a mountain of sugar." Rafa was never their cup of tea, and that quote will be added to the "bottle of milk" quote from a couple of weeks back (an old Spanish saying that went over the heads of many of those paid to write the quotes up) and brewed into something it never was.
For those who haven't yet worked out the meaning of the saying (and it seems that's a sizeable number), a priest wearing black against the white background of a mountain of sugar should be easy to spot. So some people struggle to spot the obvious.
The current Inter Milan boss spent most of his time at Anfield fighting with the hierarchy, something that endeared him to all fans initially but would be increasingly used against him by his critics as being a distraction. Where Rafa tried to align himself with the supporters (and against the boardroom), Roy has tried to align himself with the boardroom and has increasingly annoyed supporters. "With my people we gave, and if he doesn't understand maybe he has been in Liverpool not too long," said Rafa. "We gave the fans their pride – again. We fight for the fans, we fight for the club and we fight for our players. So maybe he cannot understand this."
Benitez had been trying to get Kenny back at the club before Purslow's appointment, but it wasn't until Purslow arrived that the move finally went through. According to Benitez the role Dalglish was given wasn't the one Rafa had in mind: "I brought back Kenny Dalglish to do a role in the club and Christian Purslow gave him another role."
And Rafa suggested he was going to talk to Hodgson about all this: "He doesn't know but I will explain it to him."
He also suggested Roy should quit talking and concentrate on coaching, much like Tom Hicks told Rafa to when the club's financial mess first started to unfold three years ago: "So," suggested Rafa, "instead of talking about the flips or the flops, he has to concentrate on his players, try to do his best. He has a good job to do."
As for those "flips and flops", Rafa said: "They've signed nine players."
He then went on to explain what he – in his view – had left behind: "I left that squad – with £10m net spending – I left that squad with £300m value, 13 internationals, so instead of talking about flips and flops, he has to concentrate on his job, try to do his best and not talk about the level of his players or the new players."
With many fans wishing Roy would stop putting his foot in his mouth, perhaps the current manager would be wise to take some of the advice of his most recent predecessor: "Concentrate," said Rafa, "try to do your best, because it will be the best for the club and it will be the best for the fans. And I will stop talking about this."
It's highly unlikely that Roy will avoid getting asked what he thinks about Rafa's advice – whether he takes it or not we'll have to wait and see.
But maybe Kenny Dalglish will have a quiet word with Roy about his embarrassing outpourings and his attempts to use his good name to both score points over his predecessor and defend himself from some much-deserved criticism.
Or maybe NESV will save him the need to when they meet tomorrow with a manager even more out of touch with the fans than his side are with the top of the table.