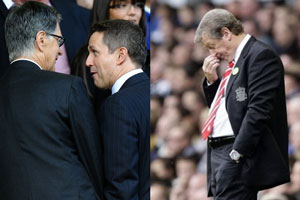 Eight games into the season and Liverpool have managed just one win. One win. Eight games.
Before this game began the question was already being asked if this could be Roy's last as Liverpool boss. But it's the derby, the kind of fixture that is never predictable and perhaps one of the few games in a season where it's unfair to demand three points.
What isn't unfair is to demand a performance. It's the derby. Games are lost because of players being too fired up, referees being unable to cope with the extra pressure, bad luck, the other side being better on the day. We live with that. All we demand from a derby is that the 11 players on the pitch look like they want to win.
That never happened today.
What's worse is it came days after the conclusion of an epic battle to kill off the epic swindle of the past three-and-a-half years. Uncertainty was gone as far as the risk of administration was concerned. New owners promising new investment for the squad and a massive feel-good factor going around the club and its supporters.
So why did the players look like Tom Hicks had won the war?

That war ended in emotional fashion on Friday evening. Highs and lows had been at extreme ends of the scale until Hicks finally waved the white flag and accepted the inevitable defeat. Fan after fan explained how drained they'd become with it all, many getting little sleep as those final days went on. But when it ended we were ready to take on the old enemy and get back on the road to recovery.
Nobody seemed to mention any of this to Roy Hodgson.
He actually thought the players had performed well: "My immediate thought is how can life be so cruel that we can play as well as that and get nothing from the game."
We're getting to a stage now where it's hard to separate parody from reality when Roy speaks.
Time and time again his response to an embarrassing performance is to big up the opposition. Like today: "We suffered at the hands of an early onslaught, which you invariably do here at Goodison."
It's sad to listen to: "They put us under pressure and made it difficult for us to get the ball, but towards the end of the first half we started to do better. But I think towards the end of the first half we were starting to more than even the game out. I thought the shape of the team was good and I thought the quality of our passing and moving was good today."
And once again Roy was talking about how much better Liverpool were after going behind: "We had plenty of the ball in the second half and we were camped out in their half of the field in the final third for large periods. I thought we caused them plenty of problems, but you're never going to get the really clear one-on-one chances when teams are defending a two-goal lead."
Well maybe it's time to stop giving the opposition a two-goal lead?
Last season Pepe Reina shared the Golden Gloves for the number of clean sheets he'd kept. The season before he narrowly missed out after winning it in previous seasons. This season Liverpool have conceded 13 goals in 8 games. Hodgson puts it down to bad luck, today at least: "We are conceding too many goals and yet today I think we were a little bit unlucky to do so. Even in the good spell of pressure Everton had at the beginning, we weren't shipping goal chances, but it is a problem that we're letting in goals."
The Reds now have a goal difference of minus six after only managing to score seven times in those eight league games. Hodgson said: "We need to score goals to take pressure off the fact we could let them in, especially when you're playing with the sort of line-up we were at the end of the game.
"Good teams score goals and don't let many in and that's what we have got to be trying to do as well. We need to get better in both areas. In particular today, one could argue with all the possession we had in the second half and the time we had in the final third, we should have scored because the possibility was there."
One could argue that this just isn't going to get any better. Today should have seen far more fight and inspiration. Instead it was one of the few things that comes close to the embarrassment of a Tom Hicks lawsuit.
With his side in the bottom two, Hodgson was asked if this was a crisis: "I don't think it is a crisis, I thought the way we played today was not the level of a team in the bottom three but six points from eight games is a very poor return. We need to start winning to climb the table and until we do the word 'crisis' will continue to be bandied around.
"We're not trying to disguise the fact this is a predicament or whatever word you want to use. For any team to take six points from eight games at the start of the season and go through that type of bad spell is a predicament. We don't in any way try to deny that."
He also denied that that the players in his charge were low on confidence: "I didn't see it with Maxi Rodriguez, Gerrard, Meireles or any of the back players. I thought all of those showed plenty of confidence in themselves. I wouldn't say it is a question of too many lacking confidence, but people are playing under pressure. That's the bottom line."
The bottom line is actually just below Liverpool, who are now in 19th position out of the 20-strong Premier League. Liverpool are below Steve Morgan's Wolves, only ahead of bottom-placed West Ham on goal difference. "We've taken six points from eight games and every game we don't win, the pressure builds up even more. That will affect people's confidence in the long run."
And he admitted that he felt one of his players was low on confidence after all: "Fernando is going through a bad time, he needs a goal and his confidence is low. I don't think he is physically unfit, I think he showed that today, he did plenty of work and we don't have any injury problems with him. He got battered during the World Cup and mentally he is probably a bit low and he needs a goal or two to get it back. Certainly today I would have no qualms about his performance."
With a solitary win to show from a manager who claimed his squad was not only good enough but actually needed a little more trimming it's no surprise to hear Roy still talk up his chances of hitting that top-four target: "There are 30 games to go and 90 points to play for. I don't know if I would write that off at the moment. It would take a really good run of four to five wins on the spin, but I thought there were signs in the game today and who knows, maybe we can get those four or five wins on the spin. That's what it is going to take."
How about a second win of the season first?
The new owners had taken lunch with Roy and his players yesterday as well as turning up to watch today, fans had put their protest banners away to be shown to their grandchildren in years to come and players in the squad could finally picture some new investment in the squad. This wasn't the false optimism of the summer, this was real optimism. Did Roy feel he'd missed a golden opportunity to use that? "Yes, of course I feel that. This would have been the ideal opportunity to turn things around on the back of the entry of the new owners and the way that has been received by everyone.
"To get a result here and win the game would have been utopia, but I can only analyse the performance and there is no point in attempting to analyse dreams. The dream was we would come here on the back of new owners and win the game, but we had to play a game of football."
Thoughts of Roy being handed the first big budget of this new era is filling many supporters with fear. Hodgson knows there a long way to go until that happens: "It's still two and half months off and there is a lot of football to be played, so there is no point in us trying to put all our eggs into that basket. The first thing we have to do is start playing and winning matches. Hopefully if we can do that and get ourselves in a better position, then if the owners can find a way to back us and improve the team in the transfer window we will obviously do so."
Maybe, just maybe, he knows he's on borrowed time: "Of course the January transfer window is something that interests us. We'll have to do our scouting work for future transfers like any other club, but it's not something that interests us in the coming weeks. What interests me is preparing for Napoli and Blackburn – a game we need to win."
What interests many fans is how the new owners will react to what is clearly not good enough for this club. Many of those supporters were unhappy with the appointment in the first place, and patience is all but exhausted. Roy certainly wouldn't have been on the shortlist for the manager's job at any of the club's Liverpool fans expect their club to be competing with.
Sacking a manager mid-season is not the way Liverpool usually do things, but Roy's appointment came at a time when the club was being run almost as if in administration and certainly not under anything like normal circumstances.
Tonight would perhaps be the best time to part company with a manager who – for all the truth of what a nice guy he is – clearly got himself a promotion above his true ability level. A caretaker needs to be appointed and the search must begin for a candidate worthy of one of the biggest jobs in football.
Everton 2 (Cahill 34, Arteta 50)
Liverpool 0
Everton: Howard, Baines, Heitinga (Hibbert 72), Jagielka, Distin, Neville, Coleman, Arteta (Beckford 74), Cahill, Osman (Bilyaletdinov 46), Yakubu.
Unused subs: Mucha, Shkodran Mustafi, Magaye Gueye, Baxter.
Liverpool: Reina, Konchesky, Kyrgiakos, Carragher, Skrtel, Raul Meireles, Gerrard, Cole (Babel 79), Maxi (Jovanovic 84), Lucas (Ngog 71), Torres.
Unused subs: Jones, Aurelio, Kelly, Spearing.
Referee: Howard Webb
Attendance: 39,673