Thomas Werner, chairman of Liverpool's new owners NESV, was at Melwood this morning with colleagues John W Henry and Joe Januszewski.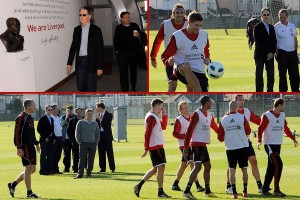 It was all smiles as the new regime got to have another look at this important part of their new empire, meeting the coaching and playing staff. For now it's all about steadying the ship.
The words sound much the same as they did last time the club changed hands – but the trio of what became known as the 'independent directors' insist that the new hands are very different to the (man) ham-fisted ones that left in embarrassing circumstances yesterday.
Actions will be more important than words, and NESV are understandably reluctant to say anything that will be construed as a promise and used against them at a later date.
Werner told LFC.tv that LFC "is one of the great clubs in all of sport, its history, its tradition, its fans – in some ways it's similar to the fans of the Boston Red Sox in that they're loyal, they're passionate and it's our good fortune to be stewards and we hope that we will take care of this extraordinary club and provide it with the resources and the commitment to win in the near future and hopefully restore some of its lustre."

"Custodians" becomes "stewards", "storied" becomes "extraordinary" – it's all been said before. Three-and-a-half years of infighting and lies has left Liverpool fans battle-weary and untrusting. But everyone deserves a chance and there is no doubt whatsoever NESV will get one.
Werner explained the priorities now that the intensity of the last few days is over: "I think it's been a very interesting rollercoaster but now our focus is on stabilising the club. We've been with the players this morning and the manager and we introduced ourselves, told them that we're here to be supportive, to be constructive and we have a great history in Boston of providing the resources to win and we expect to do the same."
Rumours surfaced recently of American visitors to club facilities, rumours that were soon dismissed with an explanation that the visitors were involved with club sponsors. Werner confirmed it was in fact NESV: "Well we actually have been at Melwood before, we came here under the radar about four or six weeks ago, but it's always a pleasure to be around players because, after all, they are the heart and soul of the club and if we can give a message to our fans it is that we're going to be very supportive and we're going to listen. We look forward to spending the next few days here talking to various stakeholders and telling them about a little bit our track record and how we're going to go about our business."
Various fan groups, including Spirit of Shankly, have made it clear that they would like to ask some questions and listen to some answers from the new owners; it remains to be seen whether Werner is referring to those groups when he says "stakeholders" and whether the club have chosen some of the more co-operative groups to have the ear of the new regime. It certainly isn't as straightforward as it may seem, the scars of war will take time to heal and it was only in the latter stages of the conflict that fans put their differences aside for the greater good. The last thing NESV can afford to do is to alienate any of those groups, however much of a "minority group" they are told they are.
In fact, like it or not, the club now have an important task on their hands in doing all they can to build on that recent show of solidarity from supporters and use it to help force this club back into the position of strength it belongs.
Werner says it's important to manage expectations: "I think one message I'd like to give is I'd rather under promise and over deliver. But if you look at our track record in Boston – and the Boston Red Sox have some similarities with Liverpool – we came into a situation where the club had not won actually for 86 years and we hope to win much faster than that. It's an honour to be here, we're humbled by this and we just want to tell our fans that we're going to listen to them, we're on their side and finally it's about winning on the pitch."
And Werner used a word – "honest" – that has been missing from Anfield for far too long. Lies, spin and self-preservation have ruined the relationship between the club and its fans. At one time the club included the fans, in recent years the club has been pushing the fans away. Werner said: "We are quietly confident but we would like to say to our fans that we are honest, we care, we're focused, we have brought great management into Boston and we look forward to doing whatever we can to strengthen the club. We can't wait to see everybody at Anfield."
The honeymoon period will be short, questions are already being asked about whether Roy Hodgson should be sacked and if the new manager isn't seen to improve results soon the new owners will be expected to act.
They've not taken on an easy job, but they seem determined to rise to the challenge
They've certainly got a wealth of information they can use on how not to go about the task. They just need to Google "Hicks and Gillett".