Do Liverpool's potential new owners have the resolve to match that of its fans? Fans who have done all they can to see off the old owners?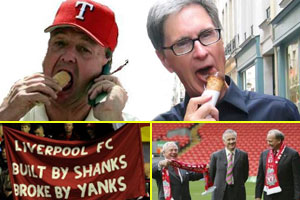 After over 3000 votes had been cast on a poll on this website the message that came across was about as clear as it possibly could be.
We'd rather face the uncertainty of administration than the uncertainty of one more day under Hicks and Gillett.
97.6% of the 3188 votes said the risk of a nine-point deduction was worth it.
We started 2009-10 with fans talking seriously about a title challenge – after all we'd finished second a few months earlier. Despite the events that have happened since we still started this season with expectations of a top-four challenge at the very least.
Unfortunately the start to the season has been embarrassing. Roy Hodgson's men have played so badly, been so unlucky, been so fed up, lacked so much preparation time or whatever else you want to put it down to that they've dropped a total of 15 points already this season.
The club is in the bottom three, with only six points managed so far – meaning nine-points docked would see us in minus figures. But it would take some seriously bad form for this club to be relegated.

It's not being complacent, or arrogant, to say that we feel fairly secure that we would avoid the drop even with that nine point penalty. Roy Hodgson deserves a couple more games at least to turn things round. After that we'll find someone else who can instead.
And if we're so bad that a nine-point deduction would see us go down then perhaps we should sack Roy now. We weren't that bad last season, nowhere near, and we aren't that bad this season.
All we need to do is start winning a few games.
Before we actually get to try and win another game the supporters are forced to contend with games of a different kind, the type that have blighted the club for far too long; the games played in the media.
One of the latest ones is in relation to the likelihood of administration and in turn the chances of that leaving us with a star next to our name in the league table to explain why we've got nine points missing.
One day we're told it's highly unlikely, the next day it's nailed on. Much like the outcome of the court action Martin Broughton has started against Tom Hicks, nothing is really certain at this stage. All the speculation does is fill in some time, and perhaps most annoyingly gets the supporters angry, worried, and filled with more uncertainty.
As always, the supporters are the last to be thought of.
Martin Broughton tells us the 9 point deduction can and probably will happen if he loses his court case. He's confident he won't lose his case, but if he does the risk is real.
Yet his sidekick, Christian Purslow, tells us he's not even given it a passing thought. He's so laid back about it he could be talking about whether he brought his brolly out with him on a bright autumn morning. He's too busy thinking about the sale he says.
Speaking to the BBC, the MD said: "I'm not even contemplating administration and nobody should be."
Wait a minute Christian. Judging by the number of outlets that report sources close to NESV telling them a 9-point deduction would see them back out it's clear that these potential new owners have thought about it. Liverpool fans will take the hit if needed. But the potential new owners would rather make a quiet exit.
This 17-man consortium are telling anyone who'll listen that if the Premier League confirm nine points will be docked they'll be off to find something else to spend their £300m on. Surely you've spoken to them about it; tried to reassure them, or perhaps to clarify why they're making these threats.
Of course not: "I have not discussed that possibility with them. I am completely focused on the sale."
There won't be a sale if nine points are docked – unless the NESV sources are following in the footsteps of their predecessors by being economical with the truth. So focussing on the sale should include a little attention to this claimed sticking point.
Garry Richardson, the presenter of the show "Cecil" appeared on, is usually kind to the MD. But he asked a question that Purslow perhaps would rather he hadn't. He asked him to spell out to fans why he thought administration wouldn't happen.
Purslow wouldn't, or couldn't give that reassurance. Instead he evaded the question: "As I say, we are focused this week on making sure the sale of the club, for a very attractive price, completes, and that is our complete focus."
Focus, focus, focus.
The only on-record quote from the club about NESV's reported threat to walk away is from Christian Purslow, who tells us he's not thought about administration, let alone asked them what they'd do.
Why on earth would NESV consider walking out of this deal over a relatively small points deduction?
What kind of message does it send out to supporters?
It's an astounding threat for them to make. Maybe they're not being honest, maybe it's some difficult to fathom negotiation attempt. A lack of honesty really isn't a good start when fans list "lies" as one of the main reasons they want the current owners gone.
Are we about to be sold to some sharks? Hicks and Gillett sounded wonderful when Rick Parry and David Moores described them to us just before they took over. Words mean nothing, it's actions that count. And they're threatening to make their first action a sharp exit at the first sign of trouble.
They're talking of walking away, before the storm.
Maybe they haven't got the guts for the fight. Because this is a fight.
George Gillett has reportedly defaulted on a loan secured on his half of the club. He has little left to lose. The people he took the loan with, Mill Financial, have. Tom Hicks has around £70m to lose. NESV know – or should know – they've got a fight on their hands.
And if the fight is won off the field there'll be a fight to win on the field – with or without the nine point deduction. It's a fight we can win – but not if we've got owners with such little resolve.
Liverpool fans made it absolutely clear that we would take the loss of nine points on the chin if it came to it. We'd take it on the chin in the hope it would see us with new, responsible owners.
A clean break, a fresh start, an opportunity to climb out of the hole we've been sinking into for the past three years.
If NESV have such weak stomachs maybe they're not the best people to help us get out of that hole. And maybe this board aren't the best people to find someone who is.
Hicks and Gillett's reign began with the words "Trust me" blaring out of the pages of the local press, Rick Parry trying to convince us he'd made the right, if last minute, decision.
NESV came late to the table. Can we trust them? Can we trust the people telling us it'll be a good deal?
At this moment in time – no.