Javier Mascherano's move to Barcelona was finally confirmed this evening after the player passed his five-hour medical and penned a four-year contract. The process had been held up by delays in documentation coming through from Anfield.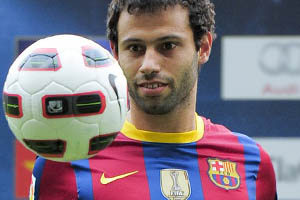 Mascherano's contract includes a buyout clause of €90m and is worth less financially to the player than it originally would have been. Barça's vice president Josep Maria Bartomeu said the player had made extra efforts to see the deal done: "He gave up 20% of the initially agreed salary," explained Bartomeu.
What Bartomeu wouldn't reveal was how much the Reds had made from the transfer:  "Liverpool have asked us not to announce the transfer fee for now. That'll happen later."
Why Liverpool have told Barcelona to keep the fee a secret is anyone's guess, but the 20% given up by Mascherano, reportedly worth €3m over the four years of the deal, was the difference between Barcelona's final offer and Liverpool's asking price.
Mascherano said it was worth it: "The last thing that crossed my mind was the money. I gave up part of my salary because this was a unique opportunity. I might lose some money but I win a lot football-wise."

He also had good things to say about Liverpool, at least up until the final part of his time at the club: "Liverpool was an extraordinary period in my career; I have enjoyed playing for three and a half years for one of the most famous clubs in history. Liverpool was important for me.
"I have great affection for the fans, the club and all the friends I made, so I will always want the best for Liverpool."
The former Liverpool midfielder was looking for a move a year ago, for what he'd previously claimed were personal reasons, but Liverpool wouldn't let him leave: "Last year was a bit of a disappointment for me not to come [to Barcelona]. Liverpool declared I wasn't for sale after Xabi Alonso left."
His final few days at the club were played out in a way nobody would have enjoyed, Mascherano hinting that he'll explain his side of the story in full at a later date. In the meantime he pointed out that the Liverpool boss knew what had really got on, and claimed that much of what was said about him was untrue: "[Liverpool boss Roy] Hodgson knows what the truth is but I'll not talk about any of that today. One day I will tell you all, a lot has been said about me, including lies."
Hodgson meanwhile is still trying to finalise his own transfer plans before the window closes tomorrow evening.
Paul Konchesky's transfer from Fulham is still not confirmed but still looks set to be done in time for the deadline. The original plan was for Liverpool to sell Insua and use the funds to pay for the Fulham left-back but Insua didn't really want to leave the club and was either unwilling or unable to agree personal terms with Fiorentina.
Insua was already being offered around clubs in Italy a number of weeks before Hodgson had been appointed as new manager. In mid-June Konchesky was set for a move to Birmingham only to pull out after allegedly being tipped off that Liverpool would be in for him as soon as a new manager was appointed.
With Insua's departure looking less likely as the deadline drew closer Liverpool offered Fulham some players in part-exchange for Konchesky. One of those players was Lauri Dalla Valle, the 18-year-old Finish striker. According to Hodgson on Sunday it was his medical that was holding up the deal.
Meanwhile Insua is now believed to be on his way to Turkey having accepted that Liverpool were unhappy about having to honour his contract, having taken his squad number off him and left him out of all their competitive squads so far this season. Insua was happy at the club, if a little over-used last season, and as a player who would qualify as "home grown" when his under-21 status came to an end there is no legitimate reason why the club – still without a manager – would have gone to such lengths to offload him back in June.
Hodgson hailed new his latest signing and two potential new signings as harmless: "The additions to the squad of [Raul] Meireles, hopefully Paul Konchesky and possibly another player won't do us any harm at all."
Mascherano's departure along with that of Alberto Aquilani represents the loss of midfielders worth around £40m in total, but Hodgson is happy that he's found adequate replacements for less than have of that, a total of £17m: "With Meireles coming in and Poulsen I think we have solved the problems that Mascherano and Aquilani leaving have given us because we've lost some quality midfield players in Yossi Benayoun, Albert Riera, Aquilani and Mascherano."
Benayoun and Riera brought in over £9m in transfer fees and were replaced by Bosman signings Joe Cole and Milan Jovanovic.
Liverpool are yet to admit that they are now a club that has to sell before it buys and that has for the last three transfer windows made a profit on its transfer trading. Hodgson is happy that he's bought well under the circumstances: "Meireles and Poulsen are two quality players who will boost our squad and who are much-needed otherwise we would have been short in that area."
The manager seems to be talking himself out of signing a striker using the rest of the money that the club has made on transfers this summer: "If we could get us a striker who could really take the pressure off Fernando Torres from time to time that would be very useful. I think it could be the icing on the cake but I'm anxious not to bring in people who I don't think are good enough.
"Just spending money to bring someone in to say we have another player could be a mistake."
So he's thinking of sticking with the players he's got, Ryan Babel and David Ngog, to provide cover for Torres: "Babel has never been given a real chance up front to show what he can do and Ngog is a player who is making progress. I would have to be sure anyone we bring in is clearly better than those two players so they could take a step back."
Perhaps he'd seen the (at best) lukewarm reaction to rumours Liverpool had been linked with Carlton Cole: "You are not going to bring people to Liverpool who are not playing at the right level."
The club still has time to surprise supporters on the last day of transfer trading, but whether it has the funds or the will won't be known until the shutters have come down on this latest window.