Liverpool midfielder Javier Mascherano arrived in Barcelona at lunchtime today as he moved a step closer to setting up home in a country where he hopes his wife will be happy and where in turn he will be able to finally enjoy something approaching normal family life.
His desperation to see his family happy has, according to reports in Spain, personally cost him over €3m.
He'll be unveiled to fans on Monday, subject to passing a medical.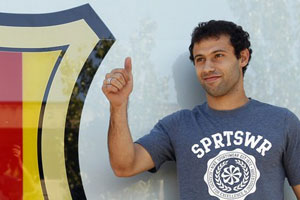 Mascherano played a vital role for Liverpool during his three and a half years at the club. Although he started last season with his mind clearly on other issues he has on the whole been treated as a hero by most supporters since he arrived at Anfield, initially on loan, in 2007.
But no matter how he felt about his time on the pitch it was his home life that was troubling him of late. He was desperately unhappy that he was unable to spend a great deal of time with his wife or young family after his wife had been unable to settle in the country. She spent a lot of time back in Argentina and it was clearly not the kind of situation that can go on without causing lasting problems for all concerned. It's understandable he was looking for a move.
On his arrival in Barcelona today his words explained so much about how relieved he felt to be this close to the start of a new stage in his family and career life: "It's a dream, a great joy. It is a pride for me and my family to take this step forward in my career."

Despite his unhappiness and his desire to see an end to those personal problems his professionalism against Arsenal in his only game for Liverpool this season was obvious. And any doubts fans might have had that his reasons for leaving related to any kind of grudge against the club or its staff should have been dispelled by his comments whilst on duty in Ireland for Argentina. He had nothing but respect for Liverpool FC and its fans, but personal pressures meant he had to move on.
But it seems Liverpool's new manager doesn't do empathy. Sending Mascherano on his way to Spain with a blast in the ear the increasingly prickly Roy Hodgson branded him as "selfish".
Rumours from the club on Monday suggested Mascherano had refused to play against Manchester City. Some of those rumours also gave Hodgson a partial excuse for the embarrassing 3-0 defeat by adding that Mascherano's alleged impromptu strike action had forced the manager to change his tactics at the eleventh hour.
But sources close to the Argentine captain reportedly denied he'd refused to play, insisting the decision to leave him out of the clash had already been taken on the Saturday, two days before the game, by a manager who was concerned about his state of mind.  That gave Hodgson ample time to prepare his side. The club are yet to confirm in any official capacity that he refused to play.
The failure of the club to set a deadline for Mascherano to leave without it eating too far into the league season is as much to blame for any hostility as anything Mascherano himself has done. By the time Liverpool faced City there were only 8 days left to go until the closure of the window. Mascherano had picked up a knock against Arsenal and must have known there was a good chance of picking up an injury sufficient to rule him out of any medical for a new club in the days that remained.
For someone who saw that move as such a key stage in his life, let alone career, it's understandable if he was reluctant.
Hodgson sounded like the manager of a club from the bottom half of the table trying to bump up the price of their only good player as he explained why Mascherano missed Monday's defeat, saying he "is not in the right frame of mind to play the game because his head has obviously been turned by the offer from Barcelona." He said that unless the fee offered by Barcelona was upped to meet Liverpool's valuation Mascherano "might be unhappy for a long time to come."
But Roy isn't even taking part in transfer negotiations, as he admitted himself: "I don't really want to get involved in it. The discussions between Barcelona and the club are being held at high club level and as a result I don't want to start saying things which may or may not be true. I have no wish to create headlines over the Mascherano situation."
As the week went on Hodgson had perhaps been briefed by his management on how the negotiations were progressing and the new manager decided to go on the attack against the Argentine: "It's not easy to defend his actions. Professionals are paid to play and, when called upon to do so they should.
"I don't think players mean it as a challenge to your authority or the club's, but it's a selfish situation where they want to do something and then expect the club and me to bow down and accept they are going to get their way."
The manager was talking tough yet he knew this player wanted out and why he wanted out. But he was on a roll: "Players must also understand when you sign contracts, you do so to play. If the club decides it's going to accept an offer for you and let you go, then that's one thing. If the club say, 'You have a contract; we're not selling,' then therefore they are staying."
But that's not what Mascherano was told. He was told Liverpool were selling, as long as the right bid came in. And Roy contradicted himself to a certain degree when he admitted he'd not taken the player to Turkey during the week in case it scuppered the transfer.
"Javier's not here because the negotiations are ongoing between the two clubs," Hodgson confirmed. "I wouldn't say he has played his last game for the club but if he played here it might prejudice the transfer and I don't wish to do anything like that."
Mascherano being cup-tied in Europe until Christmas may well prejudice the transfer, but so would an injury that left him unable to undergo a medical for a new club before the closure of the window. It seems odd that the manager was willing to refer to Mascherano as "selfish" for missing Monday's game yet left him out of Thursday's squad for what boils down to the same reason.
Hodgson was very dismissive on Thursday night when he described an offer from Inter Milan: "I saw a fax the other day [from Inter Milan's sporting director Marco Branca] but I think it was sent tongue-in-cheek. The offer was so unbelievably far from our valuation it seemed to me he was putting the fax in to maybe satisfy people at the club. We didn't even bother to answer it – that's how ridiculously far from a serious offer it was."
But as Roy and his Europa League squad travelled to Turkey there would be further offers from Branca on behalf of Inter, going against assurances Hodgson claimed he'd been given by his old boss, Inter president Massimo Amoretti. The Reds' boss said Inter wouldn't be trying to sign any Liverpool players, but Branca contradicted this: "Everybody knows that Mascherano would like to change team and to change country. He also has a good relationship with our manager. We've made a very good offer, around the amount they are asking for."
And that "very good" offer would prove to help Liverpool receive the fee they had been seeking. That offer had been enough to block Barcelona's highest – and what they said was their final – offer.
According to reports in Spain it was only a sacrifice from Mascherano that put his move to Spain back on.
Barcelona's vice-president, Josep Maria Bartomeu, met Liverpool's MD Christian Purslow and Eduardo Macia (chief scout but seemingly operating more like a director of football in the past few months) in Manchester on Thursday to try to do the deal. Barcelona's bid was reportedly short of the required price by more than €3m but they were unable or unwilling to go a penny higher.
And that's where Mascherano stepped in. He had his heart set on a move to Barcelona by now and came up with a solution to the impasse.
He would pay the difference between Barça's final bid and Liverpool's asking price himself.
He asked Barça to reduce the amount of money he was entitled to in his new contract by a sum equivalent to the extra money required by Liverpool, and for Barça to add that onto their offer. It did the trick; Liverpool accepted the new offer.
If the Spanish reports are correct, Mascherano was a long way short of being the selfish mercenary he was being billed as in England. He was desperate to make his wife and family happy and was unwilling to risk missing this opportunity again. He effectively paid over €3m to move to a club in a new country.
Even without knowing he would give up over €3m from his new contract it was well known why Mascherano was leaving. Hodgson's "selfish" comments were quite unnecessary and, some might say, extremely 'cold'.
Those comments, tied in with the rumours from Monday, led to a backlash against the player. Observers unwilling to consider for a moment that there may have been some exaggeration in what was said, or at least a lack of context, condemned the player without considering there is usually more than one side to a story.
With reports that Roy is going to use the money received from Mascherano on at least two replacements it's extremely clear that the club – and indeed Hodgson – needed this transfer as much as the player did.