The draw for the group stage of the Europa League has been made and Liverpool now face trips to Romania, Italy and Holland.
The Reds are in Group K with Steaua Bucharest, Napoli and Utrecht.
Romania's Steaua Bucharest last played Liverpool in 2003 in the same competition, then known as the UEFA Cup, with Gerard Houllier's side making it into the third round having won 2-1 on aggregate.
There's an element of the unknown when it comes to Italian side Napoli, a side Liverpool have never played previously during their many years of European travels.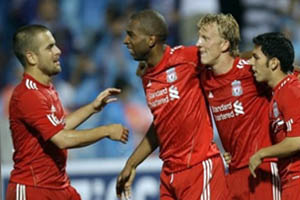 A little less travelling will be required for the away game against Dutch side Utrecht. Although the two sides have never met competitively there were a couple of pre-season friendly wins for the Reds in the early seventies.
Liverpool's place in the draw was under serious threat until six minutes from the end of their second leg clash against Trabzonspor last night, an early goal from Teofilo Gutierrez cancelling out Liverpool's first leg advantage.
However, with the clock ticking down, good work from Glen Johnson culminated in Remzi Kacar putting the ball in his own net and giving the Reds the lead over the two legs. It also meant Trabzonspor would have needed two more goals to go through and gave Liverpool a belated sense of security.
Their place in the group stages was cemented with two minutes left when Dirk Kuyt fired home the winner on the night, giving Liverpool a 2-1 win in Turkey and 3-1 on aggregate.
After the game Dirk Kuyt moved to dampen speculation about his future – speculation that his agent has kept alive with little sign of protest from the player himself – by suggesting he was going to be stating at the club. "As far as I know," said Dirk, "my future is at Liverpool. I've had a great time so far and I hope my future will be great here. All I want is to win trophies with Liverpool."
Hodgson's response to Dirk's comments was a little overplayed: "'Dirk Kuyt is not for sale so excuse me for not understanding the speculation of being happy now he has said he is staying because I never doubted he was staying. Dirk is an important part of Liverpool, I've made it clear we don't welcome any offers for him and he's not for sale."
On the eve of the departure of Javier Mascherano, with no sign of a replacement lined up, Hodgson said of Kuyt: "As far as I'm concerned he is someone I believe in, someone I count on. It's important we improve the team around the Steven Gerrards, Fernando Torreses, Jose Reinas and the Kuyts and not sell them and start all over again."
Hodgson must also fear deep down that any money coming in from such high-profile transfers is not guaranteed to be reinvested to the extent that like-for-like or even better replacements could be drafted in.