It's the last day of August. Some of us used to refer to it as the last day of summer but that was moved, it seems, to the middle of June. Nowadays it's more commonly known as deadline day and for some it's a day to get really excited. Why?
In some cases maybe there's a genuine feeling that their club's fortunes will be dramatically enhanced by the time the window closes late that night. Even when it's closed there's a faint hope that details will come through of a deal that was done just in time but not announced until afterwards. It's the hope that brings the excitement.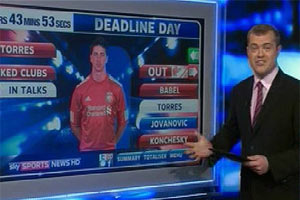 For many fans the hope is for a miracle; in their heart of hearts they know their squad isn't going to change but maybe, just maybe, a previously unknown clause will be taken advantage of and they'll get that new defender their goalkeeper had been crying out for. They cling to that hope to block out the worry that their goalkeeper might actually just go and join that defender and the rest of his team-mates at their existing club.
This season, for Liverpool fans, it's a fairly relaxed deadline day. So relaxed that yesterday there was even room for a hoax Neymar bid to do the rounds of the internet, one that might have even got as far as the mainstream media if they'd been as unguarded as they seem to be today. The day was still young when fake Stewart Downing and Guillem Balague Twitter accounts were taken as genuine and their fake transfer news got spread further than the bedrooms of the fakers. Continue reading Excitement will continue past deadline day