Former Liverpool owner Tom Hicks put on an astonishing show for the Sky Sports cameras in Texas on Friday in the aftermath of losing his 50% share in the club to new owners NESV.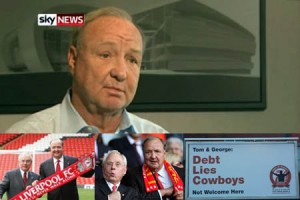 In the interview he lists various people he feels were to blame for the mess of the past three years. (Clue: None of it was his fault.)
To much mirth online around the world he also bemoans a campaign from "militant" "internet terrorists".
As he sits licking his wounds this weekend it's unlikely he'll be able to accept his own part in his downfall, and with him expected to relaunch another bid for damages it's unlikely he'll say what he truly thinks of his now ex-partner George Gillett.
In short he needs to think about what caused RBS to insist on the appointments of both Christian Purslow and Martin Broughton to run the club, find investors and ultimately find buyers. He needs to think about why nobody else would take the debt on instead.
Continue reading Ex-Liverpool owner speaks. Fans laugh.