Thomas Werner, chairman of Liverpool's new owners NESV, was at Melwood this morning with colleagues John W Henry and Joe Januszewski.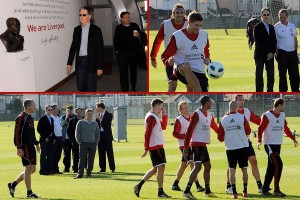 It was all smiles as the new regime got to have another look at this important part of their new empire, meeting the coaching and playing staff. For now it's all about steadying the ship.
The words sound much the same as they did last time the club changed hands – but the trio of what became known as the 'independent directors' insist that the new hands are very different to the (man) ham-fisted ones that left in embarrassing circumstances yesterday.
Actions will be more important than words, and NESV are understandably reluctant to say anything that will be construed as a promise and used against them at a later date.
Werner told LFC.tv that LFC "is one of the great clubs in all of sport, its history, its tradition, its fans – in some ways it's similar to the fans of the Boston Red Sox in that they're loyal, they're passionate and it's our good fortune to be stewards and we hope that we will take care of this extraordinary club and provide it with the resources and the commitment to win in the near future and hopefully restore some of its lustre."
Continue reading NESV: Stability the initial focus as Liverpool ownership begins