Although Liverpool supporters have been discussing the likelihood of a £20m move for Luis Suarez all week, the first firm move Liverpool have made this window looks to be a rejected £4.5m bid for Blackpool's Charlie Adam.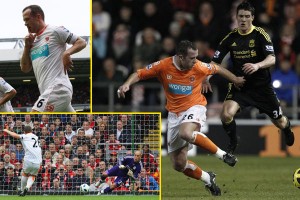 Blackpool are reluctant to sell the former-Rangers midfielder but if the right bid comes in from the right club Ian Holloway has suggested they may have to let him go. Clearly £4.5m is not the right bid, but Liverpool are expected to make an improved offer.
Blackpool's manager Ian Holloway is very protective of the playmaker and wants to try and ensure that if he does move, he moves to the right kind of club. Holloway has made no secret of his admiration of Kenny Dalglish, but it's unclear if that would be enough for him to see Anfield as the ideal destination for the 25-year-old.
Speaking recently Holloway explained his hopes for the player: "I want him to go to a club which is not struggling; it's always been my goal to get him to one of the top five or six clubs. He wants one day to go to a bigger club than us and, where we are in the league, there aren't too many.
"I want him to go to a place where he is likely to win, where he is not going to plug a hole and his manager is in a solid position. I want him to go to a place where he is loved, cherished and appreciated and that is certainly not any of the teams that have rung up about him so far.
"No disrespect to them but they are wasting their time. They can shove their bid wherever they like it because if they think he is only worth £3.5million they are watching a different game to the one I am.
"If they want to insult me by offering £3.5million then, sorry, they are barking up the wrong tree, they are messing with the wrong dog. I've seen what he does and some of it is genius – and you don't get genius cheap."
Continue reading Reds bid for Adam turned down