Javier Mascherano is set to sign for Barcelona after the two clubs agreed a fee meaning the Argentine captain now has official permission to speak to the Spanish side.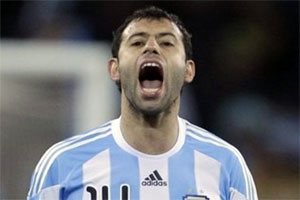 Mascherano had been looking for a move away from Anfield since last summer, citing his wife's unhappiness as the main reason for his desire to not just change club but change country.
After a certain amount of game-playing in public by the club this summer they eventually accepted that Mascherano wanted to leave and made it clear that he could go – just as soon as somebody put an offer in that met Liverpool's demands.
That offer was some time coming, with Barcelona said to be in a position where they needed to sell before they could buy but also no doubt trying to capitalise on the desperation of both Liverpool FC and the player to see his future resolved. Barcelona's league season begins this weekend, whereas Liverpool are about to play their third game of the league season, still looking for a win.
Liverpool announced the news on their website: "Liverpool Football Club have agreed terms for the transfer of Javier Mascherano to FC Barcelona. The Spanish club have now been given permission to speak to the Argentina midfielder."
With claims that the player had actually agreed terms with Barça before the two sides had agreed a fee it was no surprise to see Barça's announce that the only obstacle now left was for the player to successfully pass a medical. "FC Barcelona and Liverpool CF have reached an agreement for the transfer of Javier Mascherano for the next four seasons," said the English translation of Barcelona's statement on their official site. "The deal depends on the utility star passing a medical at Barça and the signing of his contract. Mascherano will arrive in Barcelona on this weekend."
Barcelona also said that Mascherano had played a part himself in getting the deal done: "The deal was closed after intensive efforts made by the club in the final hours and through the player himself in the negotiations."
Continue reading Mascherano set for Barcelona