A quick check on Liverpool's official online store shows that it costs upwards of £100 to buy a full adult replica Liverpool kit, including the names, numbers and patches. The club bring out five new kits – plus goalkeeper kits – every two seasons. The £100 doesn't buy a kit identical to what the players wear, it buys a cheaper replica. Next season is the last under the current Adidas deal, US label Warrior believed to be lined up for a £25m-a-year deal from the following season.
The shirts sell well and play a part in the club's rapidly increasing commercial revenues, revenues the club will increasingly rely on in years to come in order to compete on the field. Alongside the online store the club now has five physical shops in the UK; official merchandise is easier than ever to get hold of – if you're willing to shell out for it.
Official products have their place but with Liverpool's hierarchy having taken forever to spot the level of demand for anything and everything LFC the supporters have spent years meeting the demand themselves. The Reds were the last Premier League side to get an official website, nowadays it's read and used alongside a large offering of unofficial sites.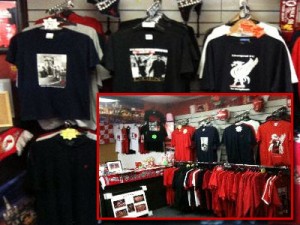 The official match programme is joined by LFC Weekly nowadays, the club's official magazine, but fans buy it alongside their purchases of unofficial magazines like Well Red and fanzines like Boss and The Liverpool Way. We're not a club that waves plastic flags given out for free, we make our own banners. Long before the club realised they needed to sell more than programmes and hot drinks at the ground matchgoers were buying hats, scarves and badges on their way to the ground, from supporters who knew what their fellow supporters wanted but still listened to them just to make sure.
As good as the official merchandise might be it's never truly replaced everything that was available before they got their act together. Mick Deane is a Liverpool fan – lucky enough to have had a season ticket since 1978 – and he knew the club's official offerings weren't always quite what he wanted at the prices he wanted to pay. He also knew he wasn't alone in thinking that way and decided to try and remedy that himself. At the start of the 2010-11 season he opened his own shop – Hat Scarf or a Badge – and gave supporters access to products the club wouldn't, couldn't or shouldn't sell.

Mick's only missed two home games since getting that season ticket, including friendlies, and says: "I'd often go into the club shop looking for t-shirts and so on but couldn't find anything that appealed to me at a decent price.
"Speaking to other lads that go to the game," he explains, "they had the same problem. So I decided to give it a go and create some designs."
The t-shirts are produced in limited numbers, perhaps fifty to a hundred, and sell quickly.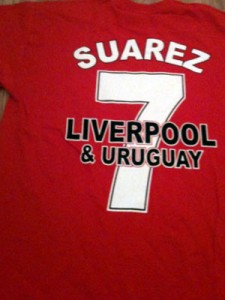 Mick says, "We try to be different, but we also stock a range of scarves, hats and badges as well as books and DVDs by local Liverpool writers." Although conscious of keeping prices down, Mick says quality isn't sacrificed to do so.
Numerous other LFC items are available in the shop which has grown in popularity over the season. "We have been described by some of our customers as 'a little Aladdin's cave' and have built up a regular customer base," explains Mick.  "We have fans coming in from Singapore, Malaysia, Guernsey – as well as locals who can now buy a good-quality t-shirt at a reasonable price."
Hat Scarf or a Badge are also the only official stockist of Spirit of Shankly t-shirts and merchandise.
The shop is a couple of minutes' walk from the stadium, at 371 Walton Breck Road by the Flat Iron pub. At the moment it's only open on matchdays (from a few hours before kick-off until an hour after) but orders can also be made anytime through the shop's website, "worldwide delivery is available and most UK orders are delivered next day".
Mick has one hope for next year that all Liverpool fans will identify with: "We're looking forward to this time next season when hopefully we'll be selling Premier League winners' t-shirts!"