Much has happened to Liverpool in the twenty years between Kenny Dalglish leaving and then returning to the job of manager.
We'd won the league in his last full season at the club, his third league title as manager. He'd only really needed a break from the game, but by the time he was ready to get back into football his old job had been taken by Graeme Souness. So Kenny went to Blackburn, got them into the top flight and then won them the league.
That title was to be the only league title celebrated at Anfield during Kenny's absence as Reds boss. And it was certainly celebrated. Blackburn lost at Anfield, but Manchester United couldn't beat West Ham and that meant Kenny's team lifted that trophy. It was fitting in many ways that it was clinched at Anfield, but none of us on the Kop that day really thought it was going to be the last time we'd be applauding league champions at Anfield for this length of time. As memorable a day as it was, as good a free-kick as Jamie Redknapp hit for our winner, any celebration was short lived because we'd gone another year without adding to our 18 titles.
To suggest we've had no success of our own at all in that twenty years is of course wrong. Although Istanbul in 2005 is an indisputable high from that time we did get to make Cardiff our second home for a few years, in place of the old Wembley that had been our second home for so many years from the 70s onwards. That said, we're yet to show the new Wembley what it's like to have an extended travelling Kop making some noise.
Our last match at the old Wembley – at any version of Wembley – is one that should have gone to a replay.

Hyped up as the biggest Cup Final for years (but still less hype than you get these days for a mid-table fixture) there was an expectation of a cracker awaiting as the Reds faced enemies Manchester United in the showpiece fixture. Liverpool had won once and drawn once in the two league fixtures (Robbie Fowler had scored all four Liverpool goals) and there was no way that anybody could be confident with a prediction of the outcome. Liverpool had finished third in the league, eleven points behind United, but the gap didn't seem as big when the two clubs had met face-to-face.
As it was the two sides basically cancelled each other out. Neither side seemed willing to try and win, both sides played like they'd spent a little too long in the hotel bar before emptying the mini-bars in their rooms. As the clock ticked down to the last five minutes of normal time the referee should have abandoned the game with supporters offered a refund on the grounds they'd not seen any football played. I distinctly remember saying the game should go to a replay, that "neither side deserves to lift that trophy" a few minutes before the inevitable fluke ensured that wasn't going to happen.
One of our players that day, wearing King Kenny's old number, was Steve McManaman. He was still very popular with Liverpool fans at the time, well before his departure on a Bosman and his apparent support of Tom Hicks and George Gillett soured his relationship with many supporters.
But none of that has any bearing on why Liverpool lost in 1996 – in much the same way that the choice of suit-colour didn't.
Speaking to Shortlist magazine, Macca remembers the day well: "We were determined to put on a show at Wembley to get revenge, and on paper it was a mouth-watering contest. On the pitch it proved a stinker.
"The game was instantly forgettable and nowadays it's mainly remembered for our cream suits and the whole 'Spice Boys' tag. When a Cup final between two of football's giants is remembered for things off the pitch, that says it all. People still go on about the suits, but it doesn't bother me.
"One thing is for sure — they had no bearing on the match. I looked over at the United suits before the game and they were terrible — all in black with ridiculous waistcoats. But when you win the Cup, people don't worry about things like that.
"Shaggy" did help Liverpool to bring the FA Cup back to Anfield during the absence of the King though, as he recalls: "Thankfully I already had an FA Cup winner's medal, having been named man of the match in our 2-0 win over Sunderland four years earlier.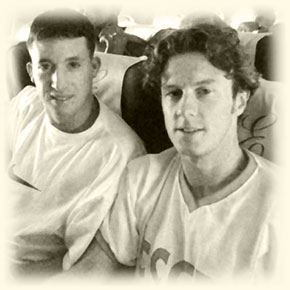 "That was a close-run thing. I dislocated my kneecap in the semi-final against Portsmouth and didn't think I had any chance of making the final. Luckily a swift recovery and an injury to John Barnes let me in."
McManaman's popularity with Reds may not be what it was, but there's no denying he was a huge talent and that without him we might not have had the limited success we did get during his playing days.
It was Kenny Dalglish who persuaded childhood blue McManaman, as he did many other youngsters including Robbie Fowler, that Anfield was where their futures lay.
If Dalglish had been around when McManaman was tempting and being tempted by other clubs would he have moved away? Would he have left on a Bosman?
Nobody can say for sure. But what Liverpool fans can say without any uncertainty is that Kenny makes a difference, a big difference. And he makes a difference in more ways than his slowly disappearing critics could ever imagine.
* The full Steve McManaman interview is on the Shortlist website >>