It can be very nerve-wracking starting work in a new place, even if the job is something you've done for years.
You might have been considered one of the best at the place you just left. But how much of that was down to the place you just left not being of as high a standard?
You might have been struggling to make any progress with your career because there was already somebody doing a great job in the position you wanted to make your own. Was that because the other person was better than you, was it just that they got their first or was it some kind of favouritism from those that make or influence the decisions?
It might not even have been your decision to leave the last job, and self-doubt will leave you wondering if you'd have been kept on if you'd been better at your job, or if it was really just down to pressure of numbers. You might feel you were let go unfairly, you might decide you were lucky to be there in the first place.
All of those self-doubts have to be put to the back of the mind on the first day in the new job. They've not got to be forgotten, because they're handy to use as reference points to avoid any kind of complacency to set in when it's all going well. But at the very front of the mind there has to be an air of confidence and self-belief. You have to assume that you are there to make things better, and that if you work hard enough there'll be no problem in doing that.
Of course when you've been in the job past that first lunchtime you might find your confidence takes a huge swipe. Your colleagues and customers might not be keen on you because – even though it's not your fault – you got the job in circumstances they weren't too pleased about. You might be there because someone was sacked unfairly (in their eyes) or because someone already working there was overlooked for promotion.
From the first minute you walk through that door you have a PR battle on your hands. It might be they expect too much of you, it might be they've already written you off. But your job includes winning them over.
It's fair to say that Roy Hodgson arrived at Anfield as someone considered one of the best at the place he'd just left. And it's not being disrespectful to say that the place he left was not of the same standard as the place he went to.
It's also fair to say that when he arrived some of his "colleagues and customers" weren't keen on him. Although some didn't have a problem with the manner in which his predecessor had left, many others had huge problems with it. And then, to make it worse, someone very popular was overlooked for promotion despite making it clear they felt they could do the job.
At least he knew this before that first lunchtime. Or at least he should have known it.

35 years

He arrived with an air of confidence in his own abilities. He (and those who were trying to help him with his PR) would tell people about his 35 years of experience in coaching jobs around the world, about how he was held in high regard in many European countries and how much UEFA liked him. He'd done well to get a team like Fulham to the Europa League final, he'd been linked with the England job, he was a really, really, nice man.
Yet most fans of the club saw something quite different. Roy Hodgson may have been the best semi-pro league manager in the world in the 1970s – but he wasn't good enough for Liverpool FC. We haven't exactly seen eye-to-eye with UEFA for as long as most of us can remember. We tend to laugh at England's misfortune more than we agonise over it. And the "nice man" role is already filled by George, the voice of Anfield, amongst others.
There just wasn't a great deal down for Roy. Then Martin Broughton spoke about Kenny Dalglish at Roy's unveiling, dismissing the idea of Kenny Dalglish getting the job in what came over as a very patronising manner, and failing completely to sell the idea to any supporter about exactly what it was that Roy offered and Kenny didn't.
Not a great start, but from that moment on Roy was in a position to fix it all. He was in a position to gain our trust and understanding, to try and win us over.
He failed to do so.
And perhaps that was because those who brought him to the job failed to understand us, failed to trust us.
Truth
He'd no doubt been told things about goings-on before he arrived that were blatantly untrue. Every so often something he said would point to this having been the case.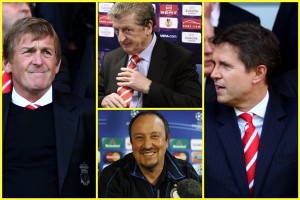 For example Roy had no way personally of knowing exactly what the circumstances were of Kenny Dalglish's appointment to his ambassadorial role in 2009, or of how Kenny was treated over that first year in that job. Yet he was quick to suggest (and later apologise for suggesting) that Kenny had been cut off from the goings-on with the first team by Rafa Benitez.
Kenny has had nothing but good words to say about Rafa since he left in the summer, so it's hardly likely such an accusation was made by Kenny. It was like some of the spiteful voices that had worked hard to undermine the previous manager were still the ones being heard behind the walls of Melwood and in the corridors at Anfield.
It must be a major factor in Roy's failure that he wasn't ever told the truth about what he was taking on, that he was given a version that pinned all the blame for the club's problems on the manager he'd taken the job from.
And – perhaps – he didn't do enough homework to try and find out what the truth really was.
Failings
It's easy to sit down and list the failings of the manager he replaced, and despite what some of the more spiteful voices might suggest there's every chance that man would sit down and list some of them himself if he thought he was sitting with someone who cared.
That manager would have tried hard to correct those failings over the summer had he stayed in his job. We'll never know now if he would have made things better or worse, even if plenty will argue they do know. Will anyone argue that he would have made things as bad as they ended up under Roy?
Whilst it's possible to show some sympathy to Roy for the way he got a job he never should have had, it's not so easy to show any sympathy for the way he lost it. He had the knack of upsetting supporters and players by just speaking at press conferences. Players out injured would find their performances called into question. Time after time he'd contradict his own words. How could we trust him?
The players
What is also unfortunate is how the players seen as his signings have had a difficult time from supporters when maybe that was a little unfair. However, like it was for Roy, it was in their power to change those perceptions.
It's not their fault that a manager that should never have been here wanted those players to join him here. And for all the struggles Liverpool have had over the past few years, it's still a club a lot of players would love to play for.
Alberto Aquilani had cost around £17m to buy in 2009, in 2010 the man running the club decided to lend him to Juventus for a year in a try-before-you-buy deal that included a guaranteed knock-down fee if they chose to keep him.
In return for giving that midfielder away (for the season) Liverpool got one of that other club's older midfielders (for a fee). Apart from the big questions about his injury record (which the club's new medical staff said was no longer an issue) the biggest criticism of Aquilani was perhaps that he wasn't able to adapt to the different pace and style of the game in England compared to Italy. Yet here we were buying a player who was surplus to requirements at that same club in that same league.
None of this was Poulsen's fault, but he still struggled to settle into the game at Anfield. But rather than try to help him improve, Roy eventually dumped him and rarely selected him to start a game.
Kenny, meanwhile, has managed to work with him and on Saturday we saw Poulsen's best performance in a Liverpool shirt.
No matter how good or mediocre any of our players are, it's the manager's job over the course of the season to get the absolute best he can out of each of them. That was something Roy never managed to achieve, not with one single player.
The other signing associated with Hodgson is Paul Konchesky. He was linked with the club from the minute Roy arrived – but there is a suggestion he already knew a move to Liverpool was likely before Roy was officially given the job.
It took the whole summer for him to be signed because despite claims to the contrary Liverpool couldn't afford him until some sales had gone through. The attempt to sell Insua (a sale instigated by Christian Purslow before Roy got the job) failed. Insua went out on loan instead and so Liverpool had to sacrifice two promising youngsters to help scrape up the fee.
One of the earliest memories of him in a Liverpool shirt was his decision to move away from the post he was supposed to be marking with the Reds conceding a goal as a result. He showed some good signs at times, poor signs at others, but nobody could really understand why Insua (not everyone's cup of tea) had been replaced by this player at such a cost.
Once again, it wasn't his fault he was in this job. And it wasn't his fault his mother was so insensitive and naive to post abuse about Liverpool (the city and the club) on a publicly viewable Facebook profile.
It also wasn't his fault that one of the reasons used to justify his signings – the release of Fabio Aurelio due to a history of injury concerns – went away pretty soon after when Roy decided to give the Brazilian a new two-year-contract. Aurelio would probably have been first choice over Insua for most of last season had he not suffered from so many injuries.
What really grates for Liverpool supporters though is the idea put out by some that Konchesky was treated poorly by Liverpool fans because of his East London roots. If he was treated poorly by the fans it was because of who he was associated with or his performances, not his accent or hometown. He was judged in much the same way as Poulsen was judged – and he wasn't a Londoner.
Many sides to every story
What also grates is the idea that Liverpool supporters wouldn't have wanted to hear his side of the story about what his mother had written on the social networking site. Who said?
We've all got friends and relatives who at some time or other, despite their best intentions, have embarrassed us. Yet now there is a suggestion he felt pressured in such a way that saying nothing was preferable to explaining how annoyed he was with her actions.
Perhaps a brief interview with the official site would have meant there wasn't a sarcastic, yet fairly quiet, cheer when he was substituted shortly before Roy Hodgson was sacked.
What we don't really know is how he's reacted to the arrival of Kenny Dalglish, although there are suggestions he's not reacted very well.
He was injured when Kenny arrived back as manager and Fabio Aurelio started in his place. At the same time Glen Johnson missed that game due to the impending arrival of his child and his replacement at right-back – Martin Kelly – put in the kind of performance any player should when given a chance to impress their new boss.
Liverpool's next game came a few days later and although Aurelio was no doubt in need of rest Kenny had a dilemma over which two full-backs to use from Kelly, Konchesky and Johnson. He clearly felt Kelly should keep his place, but perhaps also felt Johnson should get his place back in the starting line-up given the circumstances of his absence on the Sunday. And with Konchesky returning from injury it made sense in many ways for him to be on the bench rather than on the field, so Johnson started at left-back.
Attitude
There is a suggestion today that Konchesky reacted badly to his omission from the starting line-up, a reaction that might explain his absence from the squads used in the derby against Everton and against Wolves on Saturday.
Of course it's also possible any angry reaction might have been fuelled by news that Liverpool were making a move to bring Stephen Warnock back to the club, possibly on loan until the end of the season.
Whatever might have happened, Kenny Dalglish won't be telling anybody about it in a press conference. Konchesky isn't allowed to play anywhere else this season – unless Fulham decide to take him back or FIFA bend the rules for him. So the best course of action for him to take is to work hard in training and see whether he can do enough to get into the manager's plans in some way.
One thing Kenny won't stand is players who think they are owed anything by the club. In Kenny's eyes those players owe everything they have to the club – and if they act like that they'll get the rewards they deserve.
Perhaps that's part of the reason why Liverpool are interested in bringing Warnock back. Fans and pundits will argue about his ability but few will argue about his attitude. And if he does come back, he'll have the right approach to what will be his new job.
Kenny understands what disappointment there can be in being left out of a side but also knows how important it is to fight that disappointment.
Not that Kenny was left out of a side very often in his own playing days, at least until he was the man picking it. But he probably learned most of what he knows about the game from a certain Mr Bob Paisley, whose birthday it was yesterday.
Paisley missed out on an FA Cup final appearance in 1950 when the team – picked in those by the directors – was announced. But he picked himself up from the disappointment and soon became club captain. How different might Liverpool's future have been if Bob had decided to break all ties with the club back then?
Kenny's come into the job knowing he's the best man available to do it. To keep the job he's got to always tell himself that he can still do better, to keep improving and fine-tuning what he does.
And all the players in his squad need to have a similar attitude. If they're picked they need to show they deserve to be picked again. If they're left out then they need to show how much they want to be picked again. All of them need to tell themselves that they can still do better; they can keep improving and need to fine-tune what they're doing.
Anyone who can't do that shouldn't be here. And probably won't be come the summer.