Although Liverpool supporters have been discussing the likelihood of a £20m move for Luis Suarez all week, the first firm move Liverpool have made this window looks to be a rejected £4.5m bid for Blackpool's Charlie Adam.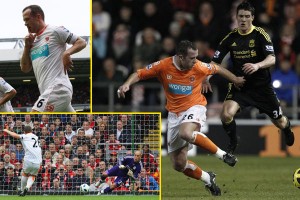 Blackpool are reluctant to sell the former-Rangers midfielder but if the right bid comes in from the right club Ian Holloway has suggested they may have to let him go. Clearly £4.5m is not the right bid, but Liverpool are expected to make an improved offer.
Blackpool's manager Ian Holloway is very protective of the playmaker and wants to try and ensure that if he does move, he moves to the right kind of club. Holloway has made no secret of his admiration of Kenny Dalglish, but it's unclear if that would be enough for him to see Anfield as the ideal destination for the 25-year-old.
Speaking recently Holloway explained his hopes for the player: "I want him to go to a club which is not struggling; it's always been my goal to get him to one of the top five or six clubs. He wants one day to go to a bigger club than us and, where we are in the league, there aren't too many.
"I want him to go to a place where he is likely to win, where he is not going to plug a hole and his manager is in a solid position. I want him to go to a place where he is loved, cherished and appreciated and that is certainly not any of the teams that have rung up about him so far.
"No disrespect to them but they are wasting their time. They can shove their bid wherever they like it because if they think he is only worth £3.5million they are watching a different game to the one I am.
"If they want to insult me by offering £3.5million then, sorry, they are barking up the wrong tree, they are messing with the wrong dog. I've seen what he does and some of it is genius – and you don't get genius cheap."

It was later revealed that one club who had made a bid for £3.5m was Aston Villa, now managed by former Liverpool manager Gerard Houllier. Holloway spoke about the offer after hearing Villa had signed Darren Bent in a deal worth up to £24m: "Aston Villa are a massive club, but how can they rate Darren Bent at that sort of figure and offer me that for Charlie? It is quite derisory.
"The midfielder they've bought for £6m [Jean Makoun] says it all. If he is better than Charlie, I might as well pack it in.
"They are trying to steal Charlie from me. I'm resigned to losing Charlie, but it should all be done respectfully, not by letting it be known you've made this bid or that bid.
"How do I work out what that market value is when clubs are paying ludicrous amounts of money for people I don't see as being as good as Charlie?  Someone can come in all they like, but it's not his choice and it's not their choice. He belongs to us and he is contracted for 18 months."
Blackpool know that with only 18 months left on the player's contract his value will almost certainly drop again by the summer. But it's wrong to assume that they need to cash in on him, and they haven't taken kindly to what Holloway suggested could be conscious efforts to unsettle the player: "It's unsettling, and probably deliberate. But Charlie is our player, and he is playing well for us. He knows that if that's all they rate him as worth, why should he go there anyway? Stop insulting us, and don't insult Charlie.
"Mr Houllier should not talk about someone else's player when he hasn't put up enough money to buy him." On the question of whether he'd sell him to Villa Holloway said: "The answer is no because I am managing his career. I've told him where I think he's good enough to go."
Houllier defended his conduct in the approach for Adam: "We did things right with Blackpool.  We went straight to the club, we were quiet, we said nothing and finally it comes out in the press but not from Aston Villa.
"He [Holloway] said we were insulting them. We made a bid, they said no and we respect that, but there is no point in being vocal and saying we were insulting them and insulting the player. They are insulting us but we don't want to go on about it."
Houllier confirmed that Villa's interest was still alive: "It is true we made a bid and it is true we like the player. It is true we would like to have him here."
The Scottish international admitted himself recently that he'd like to play at a higher level, but insisted he wasn't paying too much attention to the speculation: "It really isn't difficult to ignore all the talk. I'm a footballer and I want to keep playing well, and hopefully I can play for many years.
"There's going to be speculation about lads at Blackpool because the players are playing well. You can't stop speculation, so you just get on with it.
"The bottom line is that everybody knows I want to play at the highest level. I want to play at the top of the tree, as they say.
"This has been a fantastic part of my life coming to Blackpool, and it has been fantastic being part of this club and working with this manager.  At the end of the day everybody has ambition and I want to play at the highest level I can. Hopefully one day it will happen."