When this site and a number of other Liverpool FC fan sites ran a poll to find out the thoughts of fans about the future of Roy Hodgson it wasn't a surprise to see the "winner" of the poll was "sack Roy immediately".
What was surprising was how few supporters felt the club should at least wait. Reasons for waiting crop up from time to time in conversation and are often well argued. Yet just 3% of supporters in the poll said no to sacking Roy on the spot.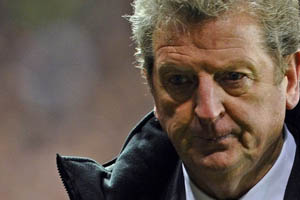 The sample was pretty significant, almost 5000 votes were received, and an overwhelming majority – 95% – of supporters were in favour of Roy being told to gather his belongings and get into a car to be chauffeured away from Melwood as soon as possible. 2% were undecided.
What must also be pointed out is that the 3% who voted "no" weren't necessarily voting in favour of keeping Roy on a long-term basis.
Very few supporters seem to be fully supportive of Roy; it's a position rarely heard in conversations between supporters. It could be argued that those in support of Hodgson would feel a little uncomfortable about standing out and backing the manager against such overwhelming opposition – this poll gave them the opportunity to quietly show that support. Nobody was looking over their shoulder as they put their mark in the box for the poll; it gave fans a chance to ignore any kind of peer pressure and go with what they truly felt was right.
But many of those who say, in conversations, that they don't want Roy sacked on the spot are not saying they want him here next season. They still want him sacked – just not at this exact moment.

Their concerns about an immediate departure relate to concerns about what happens between the sacking and the appointment of a replacement. Some don't feel comfortable with the idea of Kenny Dalglish – for example – coming in as an interim manager. Some worry that a quick sacking could lead to a hasty appointment and another manager coming in and failing to meet fans' expectations. There are also concerns that transfer deals in the January window might not be in keeping with what the ultimate replacement would have liked.
It's difficult to discuss this manager without the last manager being brought into the conversation by way of comparison. That's fine, or at least it would be were it not for the way the conversation then descends into an argument instead of a debate.
But when those doing all the shouting and stamping of feet are sent into opposite corners of the room in disgrace we find those left in the middle of the room, still with wildly varying opinions on Benítez,  are pretty much in agreement that Roy is far worse than the last manager.
This doesn't mean it's right to call for Benítez to be brought back; those who regret calling for his head can see the difference between keeping him on last summer and bringing him back now, as can many of those who were strongly opposed to his mutually consented departure.
All of those stamping their feet in the corner of the room would be too much of a distraction if Benítez came back now. These are people who faithfully follow Inter Milan's results, desperately hoping there will be a chance to gloat at the people in the opposite corner of the room. It's bad enough listening to that; with Benítez back at Anfield they really would be intolerable.
But the current situation is also intolerable.
Fans are angry, and that anger is rising. A 3-0 win at home to an absolutely awful West Ham side didn't sway people back towards supporting Roy. The anger is still there, simmering away, and if anything the approach from Liverpool for the second half turned the heat up another notch. Christmas is around the corner and Liverpool still have a negative goal difference.
The few remaining stragglers who want to see Roy given a chance are quick to point out that Liverpool are just 6 points off fourth place. Fourth place should be the absolute minimum for Liverpool to aim for, but as it stands the Reds are actually nearer in terms of points to the relegation zone, just 5 points above Wigan Athletic.
If anything Liverpool seem to have just about found their level under Roy Hodgson. Relegation is unlikely, but so is qualification for Europe. Liverpool are now mid-table, and as long as Roy is in charge that's about as good as it's likely to get. And that hurts. It hurts a lot.
The longer Roy stays the more he will be resented. The so-called "nice man" has been anything but, and whether that's because of the pressure or because he wasn't a nice man to start with doesn't really matter. He annoys supporters when he speaks, he annoys them even more when he picks his teams and sets out his tactics. Few fans actually hate him, but he seems to get on most fans' nerves.
Liverpool FC is still a long way away from being a happy club, and although removing Roy wouldn't guarantee an improvement in overall mood his presence ensures the depression hangs over the club.
Chairman Martin Broughton leaves his post in a few days, handing the reigns over to Tom Werner. Perhaps Broughton will leave a letter in Werner's desk, admitting the appointment of Roy was a mistake, urging the new board to make urgent moves to correct that error.
Broughton told the official site that he understands how difficult it's been for supporters. He said: "They've kept the faith, and they need to keep the faith now. The team's going to come good from here."
Our faith can only stretch so far, and as long as Roy is steering the ship there is very little faith that the team will come good.
A decision is needed, and fast.