John Henry from Liverpool's new owners NESV sent the club's official website some quotes earlier today. They were part of a concerted effort by the club to try and dampen down some of the speculation surrounding the future direction of the club.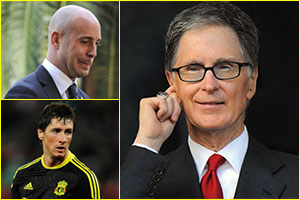 He said "We have recently read stories about our intentions for the forthcoming January transfer window and have a sense of humour about this type of inevitable speculation."
Word that NESV will look at transfer fees and contract costs in a different way to any of their predecessors was been taken by some sections of the media to mean they'll not be spending any money. But with the Red Sox the second highest spenders in baseball's equivalent of the transfer market that's an assumption that isn't being made by many supporters.
Nobody expects – and few fans wanted – Liverpool's new owners to be sugar-daddies. What supporters want to see is a club that practically runs itself; generating its own income for transfers and player wages. We don't want to find we've become reliant on money coming in from outside the club that could be taken away at any time.

Henry went on: "As everyone knows we are new to English football, but not to sport, and we are studying all options. Opportunities and value will drive spending in January and in the future."
But it's not really that side of the club's future that has been the issue this week. Key players are reported to be unhappy with the tactics and coaching at the club; transfer budgets are less of a concern than who exactly will be allowed to spend that budget.
Whatever the true level of discontent is within the squad, fans are making it clear they've no confidence in him. Most feel he has to go, that he was a bad choice to start with and that whatever the transfer funding might be he will never be capable of bringing the big prizes to the club.
Excluding Roy's allies in the media, and that's a group rapidly shrinking in size, there is little faith in Roy's abilities and it would be a surprise if NESV had let this go unnoticed. They claim they want the same as the fans: "Our clear focus from day one of our ownership has been – and will be – to improve the club and focus on what it will take to put Liverpool FC consistently in a position to challenge for trophies. We intend to build this club the right way."
There seems to be a lot of effort going into playing down the strong claims that Torres and Reina are considering their next move. Even the new owner is trying: "Stories about our top players leaving are destructive and unwarranted but we realise that this kind of speculation is also common."
Often we hear that the club can't respond to every rumour that comes to prominence, which is of course a very good point. But if the new owner feels he has to issue statements to dampen this particular piece of speculation then why aren't the club wheeling out some of the players named?
Nothing would kill the speculation off as effectively as Nando and Pepe sitting with Roy and being interviewed about how things are. Unless, of course, there is some truth in the speculation.
Perhaps it's clutching at straws, but maybe Mr Henry has already realised a managerial change is needed: "We intend to build on the strength of the current squad, not undermine it." Roy Hodgson has undermined his squad a few times this season.
Too much emphasis has been placed on the existence or otherwise of get-out clauses in players' contracts. If a player is determined to leave a club it's difficult to do anything about it, regardless of contracts. And with Liverpool far worse than last season, how can Torres be reassured that he'll be playing in the Champions League again next season? And that's without considering Manchester City's windfall. If one of the top European sides gets word to Torres that they see him in their plans what can Liverpool do to keep him?
Henry said: "I can reassure our supporters that we have no intention of allowing the team to be weakened going forward."
With Roy Hodgson as manager it's hard to see any other outcome. Top players will want to leave and Liverpool will find it hard to attract replacements of anything like the same quality. Playing under Roy Hodgson in the Europa League – itself not guaranteed – isn't going to be a great selling point.
The reassurance for fans for the time being is that NESV didn't come to England, spending a third of a billion pounds, just to see their investment get washed down the drain. They want to bring some new ideas to the club, not rely on philosophies that stopped working 30 years ago.
These words are little more than holding statements, designed to bring a little bit of calm. Their actions, as they keep telling us, are far more important.
We're looking forward to that.