Former Liverpool owner Tom Hicks put on an astonishing show for the Sky Sports cameras in Texas on Friday in the aftermath of losing his 50% share in the club to new owners NESV.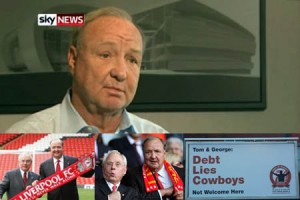 In the interview he lists various people he feels were to blame for the mess of the past three years. (Clue: None of it was his fault.)
To much mirth online around the world he also bemoans a campaign from "militant" "internet terrorists".
As he sits licking his wounds this weekend it's unlikely he'll be able to accept his own part in his downfall, and with him expected to relaunch another bid for damages it's unlikely he'll say what he truly thinks of his now ex-partner George Gillett.
In short he needs to think about what caused RBS to insist on the appointments of both Christian Purslow and Martin Broughton to run the club, find investors and ultimately find buyers. He needs to think about why nobody else would take the debt on instead.

His problems began long before any "militant internet" campaigns began or even before fan groups like Spirit of Shankly were formed. He caused his own problems; his inability to see that is what allowed such campaigns to eventually help bring an end to his reign.
Right until the end it seems he always wanted a little bit more than he was being offered. Right until the end it seems he felt he could get away with breaking promises.
He's lost a lot of money – and the attention he's got worldwide suggests he's got a lot more to lose, along with whatever shreds he had left of his reputation.
Above video courtesy of Sky Sports News / Sky News.
The following views are, obviously, not ours. This is an extract from what Tom Hicks told Sky Sports News:
"I'm shocked, devastated, frustrated. We are being very careful to make sure we follow the High Court rules but I'm very disappointed. It's hurt my family tremendously. This very valuable asset has been swindled away from me in an epic swindle. I'm very angry about it.
"I have been working very hard to solve the issue. We know there are better owners around the world who should own Liverpool Football Club than the Boston Red Sox group [NESV]. We knew who they were and were frustrated every time we had conversations with them.
"Our desire was to have Liverpool in the hands of the right and proper next owner who could build the stadium and make Liverpool the top club in the world that it deserves to be.
"I accepted the club was going to be sold back in April, the question was when.
"The Royal Bank of Scotland wanted it done the day after and there was no reason for that. Liverpool were a very healthy financial performing club. There was a bit too much debt, no question, but we were going to fix that.
"We were frustrated by others. I think the right owner would have paid Gillett and Hicks a fair price and would have had the resources to spend on players and the stadium.
"I am angry because this was a valuable asset that has been swindled from me.
"We did have the funds available to pay off RBS in its entirety. But between RBS and the chairman and the employees that conspired against us, we could not pay off the debt.
"I know exactly why that was, they had the ability to. This was an organised conspiracy and it went on for months. It consisted of the Royal Bank of Scotland, Martin Broughton – who wanted a good PR event in his life because he's a Chelsea fan, he's not even a Liverpool fan – he wanted to be seen as the guy who got rid of the Americans.
"We were working very hard to solve the issue and we knew there were better owners out there than the Boston Red Sox guys.
"But the ­interested buyers were scared off by the talk from RBS and the militant internet terrorism ­campaigns by supporters.
"I just want the truth to come out in the courts."
We look forward to it.