Liverpool are in a transitional period, new manager Roy Hodgson needs to be given more time to settle into the job, players were late back from the World Cup and either aren't fully fit are haven't been to enough training sessions for Roy to really know them yet.
They are just some of the reasons put forward to try and explain an awful start to Liverpool's league season; those reasons are rapidly becoming excuses.
When the manager himself uses them it seems all the more worrying, but that is how Liverpool boss Roy Hodgson spoke after today's 3-2 defeat at Old Trafford against one the club's old enemies. Dimitar Berbatov's hat-trick meant Steven Gerrard's brace counted for nothing, although it at least kept the club's goal-difference at 'just' -3 from the opening five games.
Hodgson said: "We are certainly in a transitional period. I don't think it needs to be negative; sometimes they can be very good for a club. Certainly the task has been complicated by the fact I didn't get a chance to work with the players because of the World Cup and with the Europa qualifiers starting so early, we were thrown into the deep end of competitive football."
He also spoke of what was to come, what the targets were: "Our aim is to get better. Our aim is still to try and get to the Champions League, maybe that's where I need to have my focus. If we are good enough to get into the top four, who knows, maybe we can get closer to the number one position. I won't say we can't do it, nor will I say we can do it."
In reality nobody expects a title challenge from Liverpool this season. This season there is an air that survival is the target. Not league survival, but survival as a team that might one day be able to challenge for the title again. Survival in the sense of not letting the gap between this club and Chelsea grow any wider than it already is. Hodgson will be well aware of this.

The real reasons for Liverpool's struggles have very little to do with what is happening on the pitch or at Melwood. Despite the brave face Roy tries to put on he's been given a far more difficult task to carry out than his board would ever acknowledge. Perhaps if they would acknowledge it – like they could have acknowledged it last season – it wouldn't quite be so difficult.
Claims were dismissed in some quarters during the summer about how unhappy Fernando Torres had become, with promises broken time and time again about investment in the club. Some of those who were dismissive now seem willing to accept it as fact; no matter how much Torres loves Liverpool and the supporters he just won't hang around forever at a club that is not just incapable of moving forward but is clearly sliding backwards.
None of the many rumours about possible changes to the club's ownership are positive enough to convince world class players to stick with the club should any club that is going places come in for them. This club needs to be backed by owners with the means to see the crippling RBS debt paid off and the means to get the new stadium built (and started before planning permission expires in nine months).
The brave faces talk about how the squad needed to be trimmed, how the squad is good enough and that the addition of another striker would have been a bonus and was never a requirement. Liverpool only got any goals today, by and large, because the last two remaining world-class players managed to create and convert Liverpool's only two goalscoring opportunities.
Fernando Torres won the penalty and free kick that Steven Gerrard scored his goals from. The over-reliance on those two played a huge part in the many difficulties of last season, with one or both of them missing or far from fully fit for most of the season and arguments raging about whether they were being overused or over-protected. Nothing was done this summer to reduce the risk of the same situation developing again this season.
But arguments about whether the squad has enough quality in it are just at one end of the scale of where the fans' worries and concerns lie for the future. What is far more worrying, far more extreme, links into that situation but paints a far bleaker picture.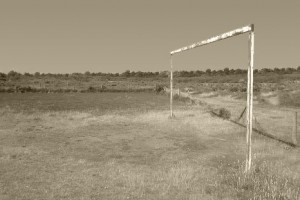 In three weeks' time the debt owed by the club and its immediate parent companies to the Royal Bank of Scotland is due to expire. This debt has been expensive for Liverpool. Interest paid on the debt each year would have gone a long way towards adding more world class players to the squad.
In fact RBS have done quite well out of the club over the past few years. Better than the club, better even than the owners, who as it stands look like losing out on making any real money from the club, if any at all. And one huge fear is that RBS would rather keep lending (and clawing back penalties and interest) than lose that easy money they've been bringing in from LFC for nearly four years.
If Liverpool hadn't made a profit on transfer deals for the last four transfer windows would the club have been able to service the debt? This season won't be ending with a nice fat Champions League prize money cheque from UEFA. And a stadium barely over half full during the week for the Europa League game shows that gate receipts won't be anything like they were in Europe's premier competition. The form on the pitch at the start of the season makes Liverpool a less attractive choice for the TV companies when choosing which fixtures to show live later in the season.
For Liverpool to survive, barely, the debt needs to be less oppressive. Refinance from RBS or a move towards debt supplied by hedge-funds is not something Liverpool FC can live with.
Easier terms, something RBS are unwilling or unable to provide to the current owners, would perhaps allow LFC to tread water a little longer. But Liverpool don't want to tread water. We didn't let David Moores sell the family silver so that he could make a profit and Liverpool could tread water.
This club needs to be financed in a way that sees debt cut down to the levels it had when Moores sold it. Back then it had an overdraft facility and debts like all clubs that related to the way players might be bought and sold and other operating costs. Overall it had £60m of debt, a figure that the club could and can work with.
The stadium needs to be built without the building costs crippling the club. That requires some serious backing during the construction phase, after which it should be possible for it to be self-funding. The club would like it to be built with seats for over 70,000 fans, but with the lack of investment in the playing squad and the growing disenchantment amongst supporters it might struggle most games to fill the 60,000 seats its soon-to-expire planning permission allows for.
For Liverpool to move forward it needs owners with the means to help it get out of a transitional phase different to the one on the pitch. The club is currently in a transition from being outside contenders for the Premier League to being contenders for playing outside of the Premier League. A transition from being one of the biggest clubs in the world to being one of the biggest clubs to go out of existence.
The right kinds of owners are needed to bring about a transition from near-destruction back to being somewhere close to where the club belongs. That kind of change is not going to work with the backing of banks, bankers and speculators who see LFC as an easy way of making money, regardless of the misery they cause to make that money.
Until Liverpool get the right kind of owners the stuff on the pitch really does remain a side-show.
A side show to the circus that none of us wanted, a sad and destructive war that we all want brought to an end. There are some enemies we just don't want to face any more. Games we don't want to play any more.
There are people with the power to bring it to an end, to accept it's all over, to play their final cards and admit what they will settle for or what they will give.
We've suffered enough. End it. Let us move forward.