Javier Mascherano is set to sign for Barcelona after the two clubs agreed a fee meaning the Argentine captain now has official permission to speak to the Spanish side.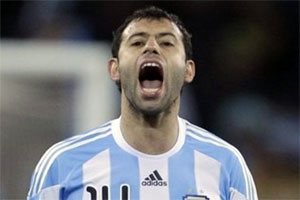 Mascherano had been looking for a move away from Anfield since last summer, citing his wife's unhappiness as the main reason for his desire to not just change club but change country.
After a certain amount of game-playing in public by the club this summer they eventually accepted that Mascherano wanted to leave and made it clear that he could go – just as soon as somebody put an offer in that met Liverpool's demands.
That offer was some time coming, with Barcelona said to be in a position where they needed to sell before they could buy but also no doubt trying to capitalise on the desperation of both Liverpool FC and the player to see his future resolved. Barcelona's league season begins this weekend, whereas Liverpool are about to play their third game of the league season, still looking for a win.
Liverpool announced the news on their website: "Liverpool Football Club have agreed terms for the transfer of Javier Mascherano to FC Barcelona. The Spanish club have now been given permission to speak to the Argentina midfielder."
With claims that the player had actually agreed terms with Barça before the two sides had agreed a fee it was no surprise to see Barça's announce that the only obstacle now left was for the player to successfully pass a medical. "FC Barcelona and Liverpool CF have reached an agreement for the transfer of Javier Mascherano for the next four seasons," said the English translation of Barcelona's statement on their official site. "The deal depends on the utility star passing a medical at Barça and the signing of his contract. Mascherano will arrive in Barcelona on this weekend."
Barcelona also said that Mascherano had played a part himself in getting the deal done: "The deal was closed after intensive efforts made by the club in the final hours and through the player himself in the negotiations."

The actual fee remains to be announced after reports Liverpool had earlier turned down a £16m bid for a player who they valued at £25m. He cost the club a reported £18m when his 2007 loan deal was made permanent in 2008. He had two more years left on that deal.
Liverpool knew Mascherano wanted to leave, the player had spoke about his wife's problems with settling in England a year before and had been promised – he said – that the club would help him with a move this summer. His desire to leave was never driven by any issues with the club, the last manager or the new one – even if any of those factors added to his desire to move on.
The club have been armed with this knowledge for the whole of the close season; it would have been far more helpful to Roy Hodgson to impose a much earlier deadline for Mascherano and his agent to find a new club. With Mascherano not expected to arrive in Barcelona until the weekend to finalise the move it leaves Hodgson with very little time to spend whatever proportion of the fee he is given to strengthen the squad.
And that in itself is a question that is met with cynical answers from supporters. Liverpool transfer spending has been running at a profit for the last three transfer windows and barring some last minute splurges it looks set to be four in a row.
Another midfielder, Alberto Aquilani, left the club earlier this week on a 12-month loan deal which gives his new club Juventus an option to make it permanent for €16m. Juventus will pay the players wages and are expected to pay a fee for the use of his services for the season.
Aquilani's departure coincided with stories that Mascherano had either refused to play on Monday night against Manchester City or was just not in the right frame of mind to do so. Stories that followed on from that suggested Mascherano's late withdrawal had forced Hodgson to switch to a 4-4-2 formation from a planned 4-3-2-1 formation at the last minute, leading to Liverpool's embarrassing 3-0 collapse.
Whatever the truth of those claims, it isn't unknown for players to drop out of a fixture at the eleventh hour due to more run-of-the-mill reasons like late injuries. Liverpool not only need a replacement for Mascherano but also seem to be short on cover should that replacement suffer an injury at any point in the season.
There are still four full days left in this transfer window and so there is still time for Liverpool to bring in some quality signings. There seems more chance of carefully crafted comments hinting that Mascherano's departure has brought a huge lift to squad moral and that there really was no need to replace him.
By the time the next transfer window arrives Liverpool fans may have far more to worry about than whether or not a departing player is replaced.