Javier Mascherano's move to Barcelona was finally confirmed this evening after the player passed his five-hour medical and penned a four-year contract. The process had been held up by delays in documentation coming through from Anfield.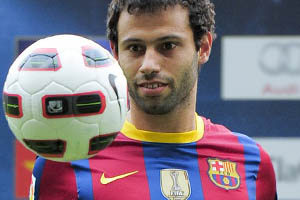 Mascherano's contract includes a buyout clause of €90m and is worth less financially to the player than it originally would have been. Barça's vice president Josep Maria Bartomeu said the player had made extra efforts to see the deal done: "He gave up 20% of the initially agreed salary," explained Bartomeu.
What Bartomeu wouldn't reveal was how much the Reds had made from the transfer:  "Liverpool have asked us not to announce the transfer fee for now. That'll happen later."
Why Liverpool have told Barcelona to keep the fee a secret is anyone's guess, but the 20% given up by Mascherano, reportedly worth €3m over the four years of the deal, was the difference between Barcelona's final offer and Liverpool's asking price.
Mascherano said it was worth it: "The last thing that crossed my mind was the money. I gave up part of my salary because this was a unique opportunity. I might lose some money but I win a lot football-wise."
Continue reading Masch signs for Barca, Roy tries to strengthen